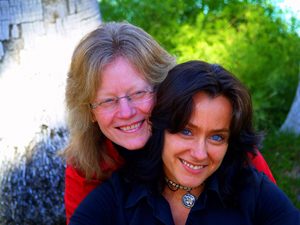 The release of the out novelist's new book trailer, Thief of Always, reminds us of the 10 reasons we love her, and gives us one more!
Kim Baldwin, a best-selling author, has accomplished what many dykes dream of doing. At 40 years old, she gave up her 60-hour workweek and semi-retired to pursue writing lesbian fiction. Since then, she has published five novels with Bold Strokes Books. In 2008, she was awarded the Alice B. Reader's Appreciation Award for her entire body of work.
1. She's focused on lesbians.
Baldwin enjoys writing "positive and satisfying" stories about the "lives and loves of lesbians today." Her former career at a major television network gave her juicy material for her novels. While her books are romances at their core, she mixes it up with intrigue and adventure, too.
2. She's a cunning linguist.
"Realistic and scintillating" sex scenes are what Baldwin strives for in every book. Each of her new releases gets bolder and more graphic. On the side, she has some short erotica stories published in various anthologies. Focus of Desire has the most steamy sex scenes to date.
3. She welcomes change.
When Baldwin was approached by Xenia Alexiou, her longtime beta reader, to co-write a romantic intrigue, she jumped at the opportunity. Alexiou had never written for publication, but Baldwin was not concerned, because "Xenia has bulletproof plots and a clear vision of the characters." As Baldwin notes, "Since Xenia has been doing a great deal of the actual writing as well, these books have been much easier and more fun for me than working alone." The result of this venture is the three-book Elite Operatives series they are currently writing.
4. She loves her readers.
Whether meeting fans at the many book signings she attends or receiving their email messages, Baldwin appreciates the time and effort readers take to let her know what they think about her books. Baldwin, who lives in the Midwest, has travelled all the way to York, England, just to meet her readers.
5. She writes on two different continents.
Baldwin joined Alexiou at her home in Europe, and then they teamed up in Palm Springs, Calif., to put the final touches on their first book, the romantic intrigue Lethal Affairs. At other times, they communicate via webcam.
6. She can predict the future.
In her novel Force of Nature, the author writes about a tornado hitting a cabin. She based the character and the setting on herself in many ways, according to Baldwin, but she never expected a tornado to touch down on her own property. One did six weeks before the book was published, uprooting more than 200 trees. Luckily, her own house was spared.
7. She's multi-talented.
As a teenager, she toured Europe with the Suitcase Theatre for five weeks. Performing in mostly small villages, she sang, danced and played alto sax and guitar.
8. She's a jet-setter.
Even before Baldwin was partnered with Alexiou, who is Greek, she was trekking across continents. She has been dog sledding above the Arctic Circle and has ridden a camel at the Great Pyramids of Giza. Her travels are reflected in her novels, which often have an international flavour.
9. She loves animals.
Her Michigan home is surrounded by furry creatures. While her cats and rabbits are protected from the elements, they are surrounded by wild bears, coyotes, bobcats and hawks.
10. She's versatile.
Baldwin can tie a knot in a cherry stem with her tongue in less than 30 seconds. Now that's talent.
11. Diamonds, lesbian intrigue and espionage, oh my! 
The trailer for Baldwin's latest book, Thief of Always, showcases the authors taste for international locales and sapphic smooches.