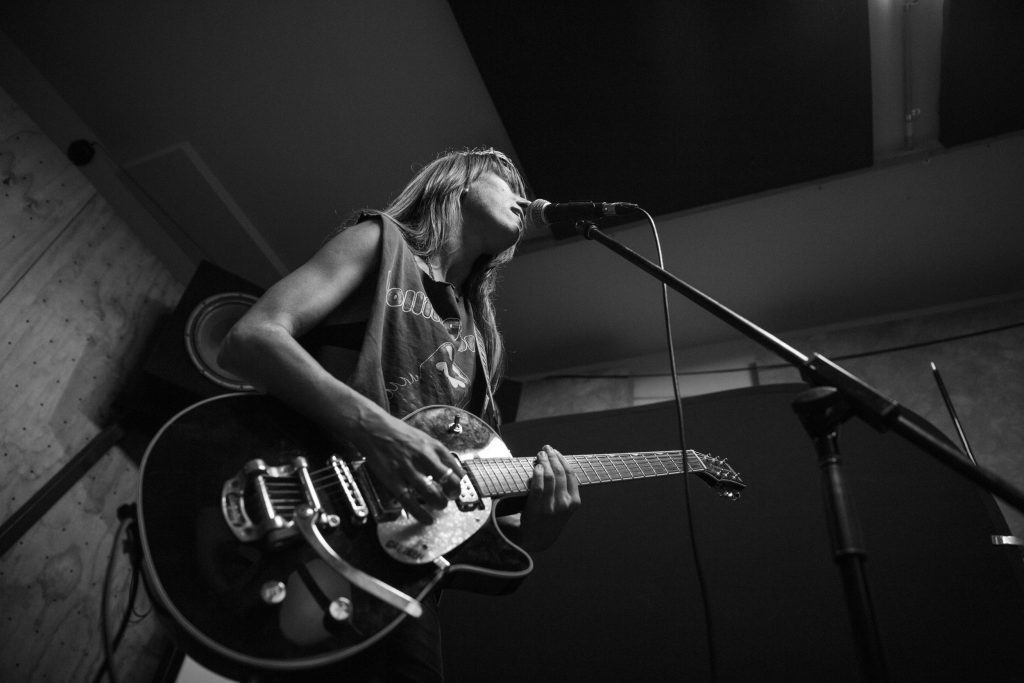 We chat to Sydney's homegrown rock star Ariane Campbell about chicks and licks.
Is there anything hotter than a front woman in a rock band? We think not. From Joan Jett head-banging with her Runaways to Patti Smith oozing sex in skin-tight leather pants to Britney bloody Spears letting her freak flag fly as she covers Jett's 'I Love Rock N Roll' at the karaoke scene in Crossroads, the consensus is thus: rock chicks are hot chicks.
The same rule applies to Sydney's very own rock goddess, Ariane Campbell. Ariane fronts Roses for Jack (aptly named after the empty Jack Daniels bottle Ariane uses as a vase), and the group are just on the cusp of releasing their new album, Stolen Hearts.
We had a chat with her about influences, gender dynamics in bands, and kissing beautiful women!
For those who aren't familiar with your band, Roses For Jack, could you describe your sound in three words?
Sexy. Upbeat. Rock.
You're working on your new album, which you are also recording with Sarah McLeod of the Superjesus fame. What can we expect from the album, and how has it collaborated with Sarah? 
Yes! We're recording now. I'm so lucky to get to work with Sarah. She's a complete inspiration and seriously kick-ass frontwoman; I'm in great company with McLeod. She's an excellent producer as well. There's a certain magic in the studio with Sarah- it's a beautiful collaboration.
The album is a collection of guitar-driven rock tracks ranging from the slamming, esoteric "Stolen Hearts" to the completely vulnerable, heartfelt, acoustic "Stay". I like to think its tone is playful but strong. It's upbeat but has a definite "don't mess with me" vibe. We've got a surprise Aussie rock cover in there as well!
In our last interview, you talked about how many of your tracks are inspired by a "love for women" and that a mighty kiss kicked off one track with a "delicious" woman. Is that theme something that continues to inform your work? 
Wow. Yes, so much has happened since that last interview!! We were talking about love and desire between women for women – compelling themes that continue to inform my work. I remember saying that women are "spell-casting, delicious, magnificent"- and aren't they just?!? Yes, I adore women, and I'm driven to inspire them; that's a significant reason why I do what I do. Is there anything more inspiring than a beautiful woman? Her eyes, her touch, her spirit, her kiss, her lips? I doubt it. I live for the kisses of a beautiful woman. I'm a Scorpio, so you know I'll always be driven by passion and desire.
You are a woman in rock, fronting a band made up of three dudes, and you've said that you're taking the lead on songwriting. That's not groundbreaking, but it's still pretty bloody rare. Does that ratio produce a singular dynamic? Why is it so important to have female frontwomen in rock? 
Cool, yes, I feel like I'm following in the footsteps of some incredible women in rock. You know, like Joan Jett with the Blackhearts, or Suze De Marchi and the Baby Animals, Sarah- with the Superjesus. Shirley Manson from Garbage, Chrissy Amphlett with Divinyls. These women in rock are all heroes of mine- fronting and songwriting with the same or similar set-up. You're right; it's not groundbreaking- in a way, it's almost a tradition- but it is rare, and I'm proud to be in such excellent company. It's essential to have strong, driven women powering on at the front across industries. If I can represent rock n roll, I'll happily do so.
The Aussie rock scene is kicking at the moment, and it is fantastic to see that many of the women heading the charge are queer-identifying (I'm thinking Alex Lahey, Courtney Barnett, Bec Sandridge). Is this coincidence, or is there some innate correlation between queer ladies and rock? 
Isn't it great?!? Surely no coincidence between being gay and being awesome! Pretty sure they go hand in hand, haha. I'm glad you mentioned Bec Sandridge. I saw Bec at Newtown Social supporting another great guitarist, songwriter and frontwoman, Abbe May. Loved it. I'd love to support Abbe May one day… I must work on my guitar solos and create cool licks… When rock music is so much about the empowered individual, the free spirit who will follow their heart at all costs, it's lovely to see the correlation.