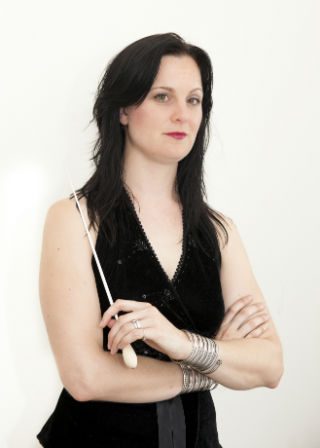 Dr Sarah Penicka-Smith is an experienced conductor and vocal coach. She has been Music Director of the Sydney Gay & Lesbian Choir since 2005
Hi Sarah, thank you so much for taking the time to do this interview! So first things first, how did you get started with music? Were you heavily involved with music from a young age?
Thanks for asking me. I come from a family of classical musicians – which meant my parents hoped I'd choose something a bit easier as a profession! I was completely classically trained until I met Sydney Gay & Lesbian Choir in 2004.
My first major concert was called 'Queer Idols' and I had to teach the choir Kylie, k d and The Weathergirls. I think since then I've learned as much from them as they have from me.
So, Sarah, I mean Dr Sarah –you're not only talented and beautiful but also extremely smart! You're obviously an inspiration to so many, but is there anyone who you look up to, or has had a significant influence on you?
That's a really hard question because so many people have helped me along the way. In my experience, the Sydney music scene, and the Australian choral scene, has lots of people who treat each other like colleagues and collaborators, not competitors.
If I had to give a shout out to one person who really showed me how to become a decent choral director it's Brett Weymark, director of Sydney Philharmonia Choirs.
What would you say is the most rewarding, and the most challenging aspects of being a Music Director to one of Sydney's most eclectic community ensembles?
Having to work across lots of musical genres is a challenge – we do everything from Baroque opera to Top 100 – but is its own reward, as it's made me a flexible artist. Sydney Gay & Lesbian Choir is also more than a choir, it's a community and a family for many of its members, which means members are really personally involved with the group.
Helping everyone to feel included, no matter which part of our community they're from or how much singing experience they have, is a big part of my role and has helped me to appreciate the amazing personal journey that every person brings to our ensemble.
So some say that music is the language of love – now if you could have a soundtrack that plays in the background of a really romantic date, what songs would make it to your Top 3?
Three songs isn't a proper date, that's speed dating. I'm going to cheat and nominate three artists. I love Argentinian tango, so some Piazzolla (his Libertango has made it into the choir's next concert). Then some German cabaret, sung by someone scrumptious like Miaow Miaow. And if I wanted to dance, my top pick is Shirley Bassey's numbers with the Propellerheads.
Now that we are on the topic of love, how would someone be able to get 'in tune with you? Take someone who has zero talent in music – are their chances still pretty 'sharp' or just plain 'flat'? (Please tell me you got these music puns – I thought long and hard about them!)
You don't need musical talent, you just need an open mind and a love of music. My wife's tastes in music are as broad as mine (although there have been some trade-offs – she's had to learn to love Nick Cave and the ballet, and I've expanded my knowledge of prog rock).
And if you need tips on musical puns, I can introduce you to the choir's bass section – they're experts.
Now this question is asked purely out of curiosity – If you weren't a music director, what do you think you would be?
I was desperate to be a vet and even spent a weekend as a kid at a vet surgery. I coped with watching all the procedures until the dental drill came out.
One last question – a hypothetical: someone without much experience singing experience but really wants to join the Sydney Gay and Lesbian Choir. Would you recommend they join? 
Absolutely yes. Our choir is non-auditioned – anyone can join. The virtue of a big choir is that there are plenty of people who can cover for you while you're figuring your voice out. And you won't just get stage experience, you'll get new friends and the chance to volunteer in all kinds of roles, from stage management to publicity. Come and check us out at our next concert, Home: Voices Without Borders at Paddington Town Hall, 7.30pm Saturday 28th June.