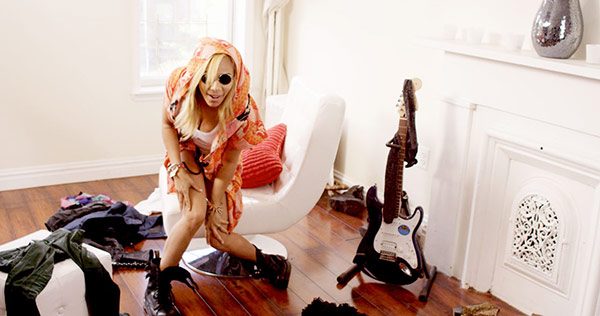 The VH1 reality star dishes on her singing career and her out and proud personality.
We know Po Johnson as the sassy, free-spirited reality star with the devil may care attitude on VH1's La La's Full Court Life. Her music career has been kicking off with her latest song "This Is My Ish" featuring hip hop artist Maino and her upcoming album "The Diary of a Love Drunken Monkey" releasing this Fall. The lesbian singer-songwriter holds nothing back in her music and in front of the camera.
Like many of her catchy songs, "This Is My Ish" was inspired by a real-life experience at a dance club in New York while she was out with Lala Vasquez and an entourage of friends. "I was going outside to go to the bathroom and I was trying to get back in the VIP area, not because I wanted to be in the VIP area, but because I wanted to hang out with my friends and so everybody was in the VIP area and the security guard was like 'you can't come back in and I'm like 'dude I was just in here,' and he says 'no you can't come back in,'" recalls Johnson.
While Johnson was yelling to the security guard, being pushed by the crazy crowd and alcohol spilling on her, she leaned up against the wall and thought to herself 'I could be doing something way better than this right now, like a song and having a real drink at a real bar.' At that point, she did feel like an outsider and felt "uncool" when security was refusing to let her in and the crowd was staring at her, but "I thought, this is my shit, this is what I do."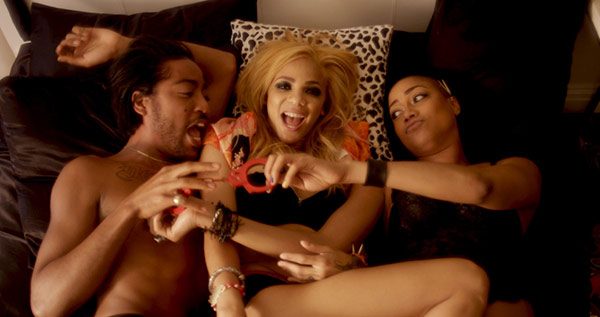 Always working behind the camera, she never thought she'd be in reality television. Sometimes Johnson forgets that the camera is on her, but that doesn't stop her from being honest and herself.  Since the show, Johnson says she's been noticed more by producers and other people, which helped her boost her music career. Johnson was always interested in music and writing songs. And it wasn't until college that she took it seriously and began writing songs, trying to put a melody behind it, and finding confidence in herself that this is what she wanted to do for the rest of her life. "I'm 200 per cent sure that this is what I'm supposed to be doing, I can't see myself doing anything else," she says.
But what's an artist without a fierce alter ego? When Johnson performs on stage or in a music video, the mighty gorilla comes out, showing off her confidence, her ambition, and her extreme personality. Johnson says she had to develop this alter ego to show others what she wants to do and that "everybody needs to deal with it." "In my mind, I'm 6'1 and I'm 200 plus pounds and I have all the options in the world, all the money in the world and I could do anything I want!"
It's safe to say and yet ironic that her proud personality comes from where she grew up: a strict Christian home. Her mother being an active member in the church and her stepfather being a reverend, nobody would have ever thought Johnson was a preacher's daughter. As a teen, she thought she had the worst life, but at the same time, she always circles back to her teachings and how she was raised. Her mother, who she considers to be her best friend, was the first to know about Johnson's sexuality. Although Johnson never really came out as being gay, she sort of just showed it. In high school, she came home one day and told her mom about a girl in her class and said, "that's my girlfriend, I love her and we're going to get married."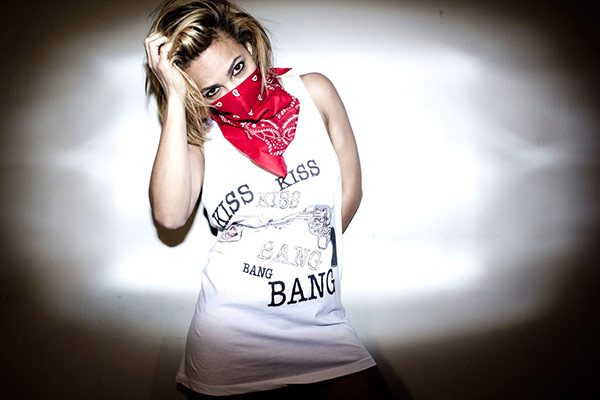 Johnson was always raised that being gay was not OK, but her mom knew that she didn't raise a bad person and always taught her to be honest about who she is. As far as the show, we know that Johnson is very much proud and open about her sexuality. "The biggest way I could advocate for the LGBT community is to be on the show and being as open as possible," she says.
Now in the fourth season, Johnson is proud to be part of a reality series that shows true friendship and family. "We uplift each other and I think it's important for young girls specifically to see things like that on T.V. because there are poor images of women that are out there right now and not just on T.V., just in life in general," she says.
And just because her music career is launching, doesn't mean we still won't see her on La La's Full Court Life. Johnson will definitely continue on with the show and her music career. [twitter.com/thepojohnson]