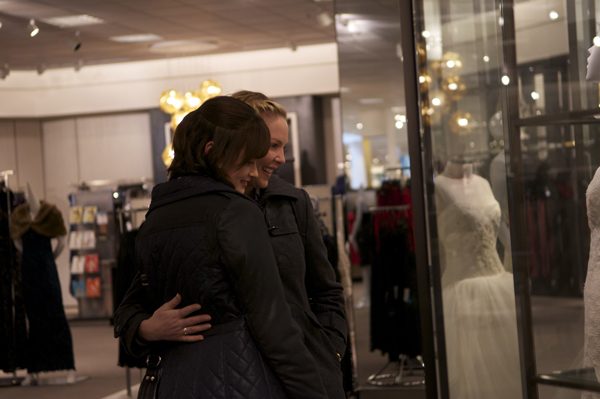 We talked with Alexis Bledel about her upcoming film Jenny's Wedding and how you can get involved with the Indiegogo campaign.
Alexis Bledel, affectionally known as Rory from Gilmore Girls, is coming to the big screen this fall in the role of Kitty, playing opposite of Katherine Heigl, the title character in Jenny's Wedding. Jenny's Wedding is about a conservative woman from a small town who wants to marry her long-time girlfriend. When she announces her wedding to her family, she also comes out to them, and the film captures how Jenny's relationship evolves with each of her family members. Written by Mary Agnes Donoghue, who also wrote the screenplays for Beaches and White Oleander, Jenny's Wedding is based on the experiences of a real-life Jenny, Donoghue's niece, and her coming out to Donoghue's sister and announcing her wedding.
The filmmakers of Jenny's Wedding have launched an Indiegogo campaign to fund the soundtrack. Their Indiegogo campaign ends on April 12 at 11:59 pm PT. In exchange for your tax-deductible donation, you'll receive perks ranging from the film, to Heigl's autograph to props from the movie.
We got to chat with Bledel about her role in the film as Jenny's fiancée, meeting the real-life Jenny and same-sex marriage.
What is Kitty's and Jenny's relationship like?
Jenny and Kitty have a really nice relationship. They've been together for more than a few years, and they've already started a life together, live together, and I think Kitty is happier with how things are. She doesn't expect Jenny to come home and say that she wants to get married one day. That's probably the last thing she ever expected her to say. It's something that she was hesitant to want because she didn't know if that was something Jenny would be capable of since she hadn't even told her family she was a lesbian.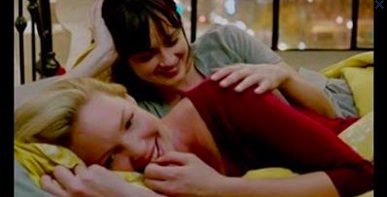 What was that emotional experience like for Kitty when Jenny told her that she wanted to get married?
It's a lot of mixed things because Jenny's inviting her to feel hopeful about something that she hasn't allowed herself to feel hopeful about. The hint that maybe that's a very real possibility all of a sudden — and then the more measured part of her personality is wanting to be sure that this is really a possibility before getting her hopes up all the way, knowing her partner and knowing that she can be impulsive (laughter). Also, Jenny needs a little push (laughter). Kitty knows that she's going to be the one who has to do that and help her, just follow through in a sense of all the things that she has to do that are going to be difficult, potentially, like talking to her family honestly. It's kind of like a flood of emotions that she has to measure out and temper.
The real Jenny and her family were extras in the wedding scene. How was it to meet the person that your character was based on?
It was incredible to meet the woman that my character was based on, and the real-life Jenny, to meet them, the couple, and to get to experience that they're much the way Mary Agnes wrote them in the film. And to see them enjoy this reimagining of their actual wedding and to get to be a part of it. It was a great day on the shoot.
What was it like to play a character based on a real person?
I think you get excited about the project as an actor because you know there's a real live tie, and it's not like this couple, the characters that it's based on, [like] they're the only couple in the world who experienced what they went through. It's a very universal story, so that's exciting to think about, and just to know that you're part of the telling of a story that you believe in. That's very satisfying.
It's very much a universal story, and it's already resonating with people. How was it seeing the video on the Indiegogo page about the woman who saw her story reflected through Jenny's from watching the Indiegogo campaign video?
That's the most satisfying part of doing this job, to know that somebody gets to see something reflected that they didn't think anybody else was going through — to be able to identify with a story, especially one that's told from a personal point of view, the way Mary Agnes wrote this one.
Once this film comes out in the fall, it's going to resonate with a lot more people, especially with same-sex marriage becoming legal in more and more states.
It's something that I really believe in. I believe that same-sex couples should be able to marry everywhere. It's a human right. I hope that it [the film] only helps to see that happen