Krown – Handmade Headpieces
Southern California native, Kaylen Morrison is a big fan of all things sparkly. She is the founder and artist behind Krown, a company that makes gorgeous, handmade headpieces. The designs can be worn like hairbands in the hair or like crowns across the forehead.
They're gorgeous go-to's for the femme set and come in all sorts of patterns and designs from hyper glam to serious boho. They're all the rage among us regular folks as well as among the celeb set.
But crafting these glittering accessories for everyday girls, as well as stars like Selena Gomez Vanessa Hudgens, Aubrey Oday, and Sarah Hyland, is only half the fun for Morrison.
Morrison's real joy is her charity Krowns for Kids with Kancer, that providesheadpieces for girls battling cancer and going through chemotherapyat Miller's Children Hosptital in Long Beach, CA. "It brightens their days and makes them feel like beautiful princesses," Morrison explains. "The kids' smiles are more rewarding than any part of Krown."
We caught up for founder Kaylen Morrison to find out more about Krowns.
Curve: Where did the idea for Krowns come from?
Morrison: I founded Krown in 2013. My love for fashion, music(Djing), art, and charity drove the inspiration behind the Krown Koncept.
As a fun project, I decided to hand place 13,000 crystals one by one on a pair of old booties. I was inspired by Christian Louboutin's Swarovski Crystal peep toe pump.
The handmade boots led to a freelance job with Skull Candy Headphones. They hired me to create a pair of custom-made Swarovski crystal headphones for Kate Upton, who is one of their spokes models. After that, I thought it would be a good idea to create a business out of it, and Krown was born.
Curve: Why Krowns and not Crowns?
Morrison: Krown is called Krown for Kaylen. The letter "K" resonates with me. Crowns are for queens and princesses so it worked out perfectly.
Curve: What inspires your designs?
Morrison: Krown is for the Fairytales, Festivals, Djs, Daughters, Hipsters, Hippies, Gypsies, Gardeners, Icons, Indians, Brides, and Bohemians.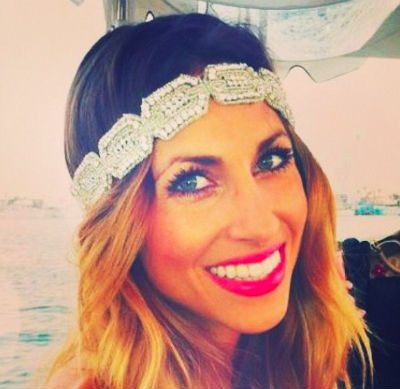 Curve: What is your background, design or otherwise?
Morrison: I have always loved fashion and design. However, it took years and many other careers to figure out my true passion and niche. I am self-taught with no former training. It all comes from imagination and dreams.
Curve: What kind of comments do you get when you wear one of your Krowns?
Morrison: I love this question because this is how I knew Krown was going to be a success. I made one or two Krowns and started wearing them out on the town. Everyone loved them and asked a million questions. They are a great conversation starter.
People often say, "I need that" or "Where did you get that?" or "You look like a goddess!"
For more visit: http://www.shopkrown.com/