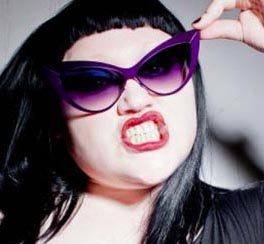 Nothing says rock star glam like a custom-made cat eye by Beth Ditto.
When Gossip singer Beth Ditto sketched her perfect pair of sunglasses on a whim, she came up with what would become BETH, her very own line of sunnies.
Ditto teamed up with eyewear brand Mykita to create unique frames of lightweight stainless steel. They are customised specially to fit Ditto's facial features.
"I'm delighted to have a pair of specs that suit me finally," Ditto said in a statement. "After searching fruitlessly for years, the project with Mykita was a fantastic opportunity. When BETH was finished, I only had to try her on once: a perfect fit!"
The sunglasses come in two colour choices – purple or white, with violet gradient lenses. If you think that's a lot of purple in one place, it's that way for a reason – purple is Ditto's favourite colour.