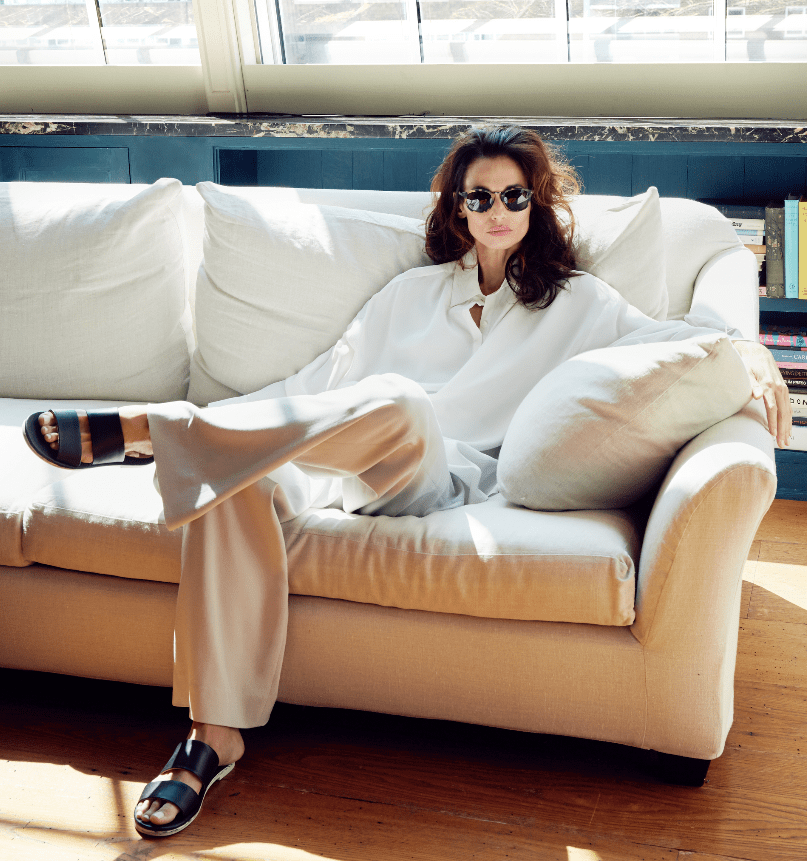 Inspired by her own celebrity style muses, out lesbian designer Morgan Hoffman has created a collection of luxe garments that celebrate strength in femininity.
How do you identify on the LGBT spectrum?
I identify as a lesbian woman who's attracted to older feminine women who are kind and calm and bring balance to my life. I really am Therese in the film Carol.
What is your background in fashion, or in related fields, that brought you to GirlBoy?
I've always been creative, love fashion, and knew I wanted to have my own brand. I met the fashion artist Donald Robertson, which gave me the idea for GirlBoy. That evolved into women's empowerment and social media. Then I built my team and began the creation of our fashion lines, starting with our spring/summer line for 2018 and now featuring our two lines for fall/winter 2018.
What was the inspiration for the label?
I've always been drawn to those iconic films like Shanghai Express, where Marlene Dietrich effortlessly, fluidly mixes feminine and masculine. I want to create clothes that reflect that classic imagery, but in a modern and fresh way. What drives us at the label is to empower women to become their own muse—to ignore society's definition of "pretty" and celebrate their own unique beauty. Our team is virtually all women, and our clothes are designed and made here in New York City.
Who are some of your personal style icons and influencers?
Marlene Dietrich, of course, and Katharine Hepburn, Diane Keaton, Edie Sedgwick—these are the women who aren't bound by society's conventions. They are equally comfortable in a tailored suit and a full-out evening gown. I also adore Cate Blanchett's style and Tilda Swinton's individuality.
Describe some of the signature elements of the label.
We have two lines for fall this season: the GirlBoy New York Collection, which is designer ready-to-wear; and GirlBoy Weekend, which is Advanced Contemporary. The GirlBoy New York Collection is made of signature pieces with gorgeous structure, fit, and quality; they personify our design aesthetic of femininity with a twist of boy, and include many of our feminine power suits. GirlBoy Weekend speaks to the effortless chic that Katharine Hepburn epitomized, every day and into the weekend. These are your go-to pieces, whether you're heading out to the country or staying in the city.
If you could sum up how GirlBoy would like to make the wearer feel, what are some of the words you'd use?
These clothes are meant to become part of your permanent collection because of how good you feel in them, not just based on how you look. I think style can raise women up; it can empower and enchant them. We hope women feel their best in these clothes.