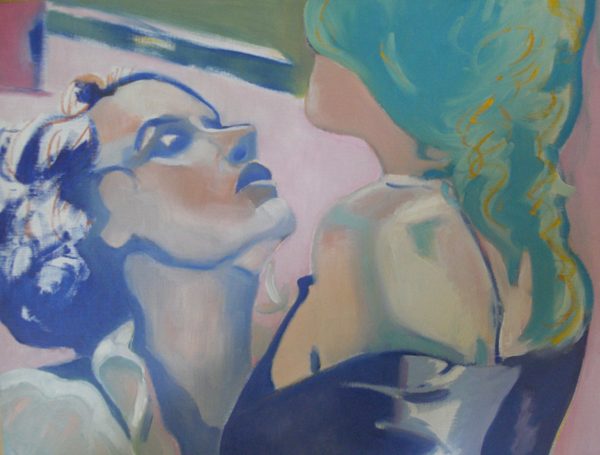 Juliette Coppens exhibits her L Word inspired paintings.
French artist Juliette Georges Coppens has re-imagined the devotion (and the libido) of Showtime's hit series The L Word by painting the lesbian love and lust scenes that once had us begging for Shane's touch and cringing or crying with every twist of Bette and Tina's relationship. Coppens has a special talent for capturing the intensity of some of The L Word's best moments, and her work gives us a chance to catch the characters again, but in a new way—still, vulnerable and timelessly sexy.
Coppens didn't see the series until 2008 but immediately fell for the beauty and ability of the actors. She said of them, "I'm still astonished by the originality and the sensuality of so many scenes." Bringing TV characters to life on canvas is no easy feat. To do it Coppens uses oil on canvass, using bold colours but paying more attention to the feeling and look of her subjects "The look (le regard) of a woman means as much as the scene itself to me." Each portrait shows the painstaking effort to get le regard just right. Fans of The L Word will be familiar with the faces of Bette, Tina and Alice showcased in her portraits and will be swept back in time as each scene all but places you in the room with them (we wish!)
To some, The L Word may seem like just another show—albeit the first of its kind—but Coppens sees more than just the seductive surface. She's interested in what The L Word represents and how she can explore those themes. She also wants to get more people thinking. She said,  "Through my portraits, I would like to talk about women, love, feelings, sensuality and sex, which is still a taboo…and as a woman who loves women I think I have something to say in that department." Indeed.
If you are lucky enough to be in Paris this season, Coppen's work will exhibit at Centre LGBT in Paris, France from October 7th to November 3rd.