Self-acceptance is more than just drag.
Outward appearance is often indicative of something deeper and Kinky Boots explores how freedom in shoe and clothing choices can lead to self-acceptance.
The core message of the play is "you can change the world when you change your mind," and in this musical, we learn how this concept applies to drag queens in all their feathers and zeal. There is hope for us if the world can be a better place with glitter, sparkles, and a pair of well-made heels!
Kinky Boots opens on Price and Son, an ageing factory with the typical Western manufacturing dilemma: cheaper labour overseas causes a pinch in demand and the company struggles for relevance. The lovely Lauren (Jenna de Wall) helps company-heir Charlie (Andy Kelso) come up with a solution: go niche. The niche they stumble upon is, as their drag queen designer Lola (Billy Porter) describes it, "transvestite footwear."
What their solution and incredibly fabulous boots really speak to is performative in all of us. At some point, each of us has "put on a frock to become Cleopatra," as Lola explains camp. Some of us did so and moved on, but some of us never looked back. When Young Lola (Douglas Baldeo), an aspiring ten-year-old drag queen, slips on a pair of fierce stilettos and saunters around the
stage I was simultaneously lost in my own story of struggling to be accepted despite quirky inclinations. In my life, this eventually manifest in co-producing the infamous Victoria Faux Queen party in which attendees were transformed into the "Style Station." I saw firsthand how camp could empower individuals to express themselves freely, even if it was just for an evening.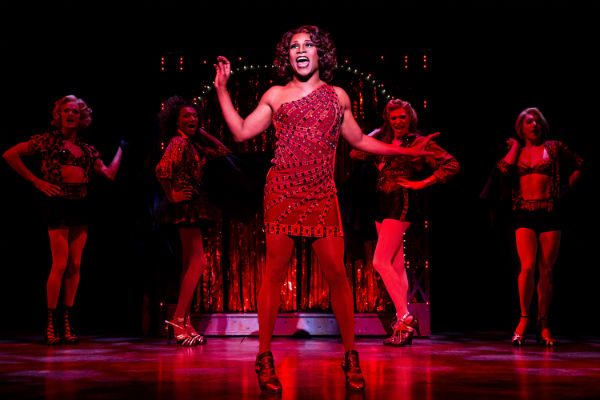 Kinky Boots had enough glitter and sparkle to satisfy this queen, but it didn't shy away from going much deeper.
We learn about Lola's fear of returning to the provinces of England and how she feared that she disappointed her father when expressing her gender transgression. Lola's struggle is juxtaposed against Charlie's struggle to accept himself in the shadow of his father's legacy. The intersecting pain of disappointment and loss that Lola and Charlie share illustrated how the journey of self-acceptance applies to everyone.
The audience was rapt and that intense concentration added to the performance on-stage. Their support in the journey was apparent. Indeed, when the final sound came for the intermission the crowd roared as if it was a rock concert. The woman next to me said that this was her sixth time seeing the show.
Empowerment through glitter and camp didn't elude the other characters and this again illustrates the camp potential in every one of us. At the end of the show, Lauren transformed from an awkward stock girl to a confident executive.
This increase in confidence is signified by her appearance in a gorgeous dress with glittery tinges and with heels with nod toward camp. The touch of fabulous didn't elude dumpy, homophobic Don (Daniel Stewart Sherman) who learns to accept other people and shows up in kinky boots himself.
There is a little glittery-and-feathered part of us all that can directly relate to Kinky Boots. We all want to be accepted for our fabulous selves, and struggle to accept who we were born to be. Kinky Boots suggests that if you show yourself to the world without apology, your self-esteem just might catch up.