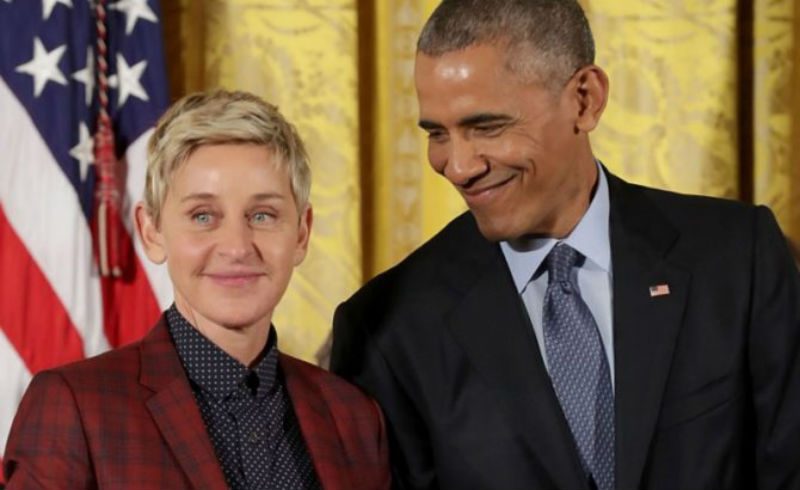 The president awards talk show host Ellen medal of freedom.
Ellen DeGeneres became one of the few openly LGBT people in history to receive the Presidential Medal of Freedom on Nov. 22 in an emotional ceremony at the White House. DeGeneres was among 20 other American luminaries to receive the award from President Obama in his final medal ceremony of his presidency.
The Presidential Medal of Freedom is the highest honor a civilian can receive. The award is "presented to individuals who have made especially meritorious contributions to the security or national interests of the United States, to world peace, or to cultural or other significant public or private endeavors."
Originally created by President Truman to recognize civilians and their work during World War II, the Presidential Medal of Freedom was expanded under John F. Kennedy's presidency to highlight cultural and scientific achievements by American civilians.
President Obama said of his nominees, "The Presidential Medal of Freedom is a tribute to the idea that all of us, no matter where we come from, have the opportunity to change this country for the better. From scientists, philanthropists, and public servants to activists, athletes, and artists, these 21 individuals have helped push America forward, inspiring millions of people around the world along the way."
The White House said DeGeneres was chosen for her body of work as well as her activism on behalf of LGBT Americans.
In a press statement, the White House paid tribute to DeGeneres' varied body of professional work, from her popular daytime talk show to her voice-over work on the films Finding Nemo and Finding Dory, as well as her advocacy work.
The Presidential Medal of Freedom is one of many awards that DeGeneres has won throughout her career. To date, her talk show has garnered nearly 30 Daytime Emmys and 15 People's Choice Awards. She herself has also been the recipient of an Annie Award for Voice-Acting and a Mark Twain Prize for American Humor.
"In 1997, after coming out herself, DeGeneres made TV history when her character on Ellen revealed she was a lesbian. In her work and in her life, she has been a passionate advocate for equality and fairness," The White House statement said.
The event began somewhat inauspiciously for DeGeneres, who arrived at the White House without any photo ID. And while she might be the best known talk show host in America–and the best known lesbian–it took a bit for her to be confirmed as the expected guest.
They haven't let me in to the White House yet because I forgot my ID. #NotJoking#PresidentialMedalOfFreedom pic.twitter.com/sHocwqChKV

— Ellen DeGeneres (@TheEllenShow) November 22, 2016
DeGeneres was looking especially butch in a suit and tie and her characteristic sneakers, representing for out lesbians everywhere.
When DeGeneres did get in, she got a mannequin challenge going–of course. The woman who "broke the Internet" with her Oscar selfie has so many squad goals. And who would miss the opportunity to be in THAT mannequin challenge?
I'm in. pic.twitter.com/oU344pnYsH

— Ellen DeGeneres (@TheEllenShow) November 22, 2016
"Everybody on this stage has touched me in a very powerful, personal way, in ways that they probably couldn't imagine," Obama said in the East Room of the White House.
The honorees included philanthropists Bill and Melinda Gates, iconic singer Diana Ross, Oscar-winning actor Tom Hanks, Maya Lin, designer of the Vietnam Memorial and performer Bruce Springsteen. Springsteen has been unspoken against the controversial North Carolina HB2 anti-LGBT law.
The ceremony was emblematic of Obama's tenure as president–the honorees were a cross-section of American culture and their role in that culture was pathbreaking in different ways.
President Obama said DeGeneres – who began to cry when Obama put the medal around her neck – was a groundbreaking figure in civil rights for LGBT Americans. DeGeneres has been such a constant on the American landscape, it was almost startling to be reminded by Obama how much she has imprinted our culture and how she was the first to do so.
DeGeneres was the first openly gay person on TV. That she came out only 20 years ago and was blackballed from the entertainment industry for years and now is one of the most Emmy-winning TV stars in history is indicative of how much has changed and in how short a time for LGBT people.
In his speech to dignitaries and invited guests which included DeGeneres' wife of eight years, actress Portia De Rossi, President Obama said that Ellen "reminds us that we have more in common than we realize."
Referencing DeGeneres' iconic coming out in April 1997 on the cover of TIME magazine with the headline "Yep, I'm Gay," Obama became emotional.
He said, "It's easy to forget now, when we've come so far, where now marriage is equal under the law, just how much courage was required for Ellen to come out on the most public of stages almost 20 years ago."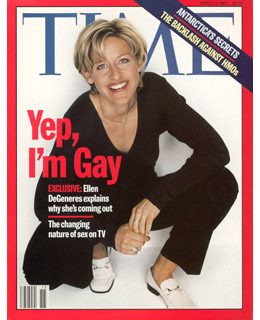 Obama, his voice emotional, put DeGeneres' life's work in historical context. "Just how important it was, not just to the LGBT community, but for all of us to see somebody so full of kindness and light, somebody we liked so much, somebody who could be our neighbor, or our colleague, or our sister, challenge our own assumptions."
Obama said women like her "Push our country in the direction of justice." And he noted the impact her coming out had on her career and the strength and courage it took to take that action.
"What an incredible burden that was to bear, to risk your career like that. People don't do that very often. And then to have the hopes of millions on your shoulders," Obama said during the presentation, his voice catching.
"Ellen counters what too often divides us with the countless things that bind us together," Obama said. She "inspires us to be better, one joke, one dance at a time."
Past openly gay and lesbian honorees include playwright Tennessee Williams, choreographer Alvin Ailey, composer Stephen Sondheim, first woman astronaut Sally Ride, assassinated activist Harvey Milk, tennis legend Billie Jean King and black civil rights worker and organizer of Martin Luther King Jr.'s 1963 March on Washington, Bayard Rustin.
DeGeneres, always ready with a final joke, tweeted a pic of her and wife Portia – and referenced her complicated entrance. Alas, while she and Hillary Clinton were good friends and we have no doubt DeGeneres would have been a guest during a Clinton Administration, we doubt DeGeneres will be invited back during the Donald Trump years. But it was heartening to see a lesbian in the White House. Brava Ellen.
.@POTUS Barack Obama just awarded me the #MedalofFreedom. I hope it serves as an ID. I have no idea how I'm getting home. pic.twitter.com/JSMf0sJqyF

— Ellen DeGeneres (@TheEllenShow) November 22, 2016