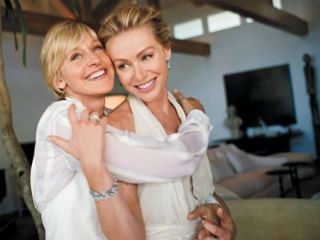 The US television host, who has over 70 million followers on Twitter, said in a post on the social media site: "I appreciate my wife every day. I can't imagine calling her anything else."
She added the hashtags: #WifeAppreciationDay #AustraliaMarriageEquality #VoteYes.
This isn't the first time DeGeneres has shown her support for the #VoteYes campaign.
On September 6th, she retweeted a post by AU Marriage Equality, the official Equality Campaign in Australia.
The tweet included the campaign's television advertisement which urges Australians to come out in support of marriage equality.
Currently, lesbian and gay couples in Australia are excluded from marriage. Tiernan Brady, Executive Director of The Equality Campaign, said:
"We are in it to win it. We are committed to doing all in our power to ensure that the long-held wish of the Australian people for marriage equality for all Australians is reflected in the results of the survey.
"This is a vote about the worth, dignity and status of members of our family, friends, workmates, and neighbours, and across the country, people are standing up for them."
Australians have until the 7th of November to post their ballot papers with results expected on November 15th. #VoteYes!