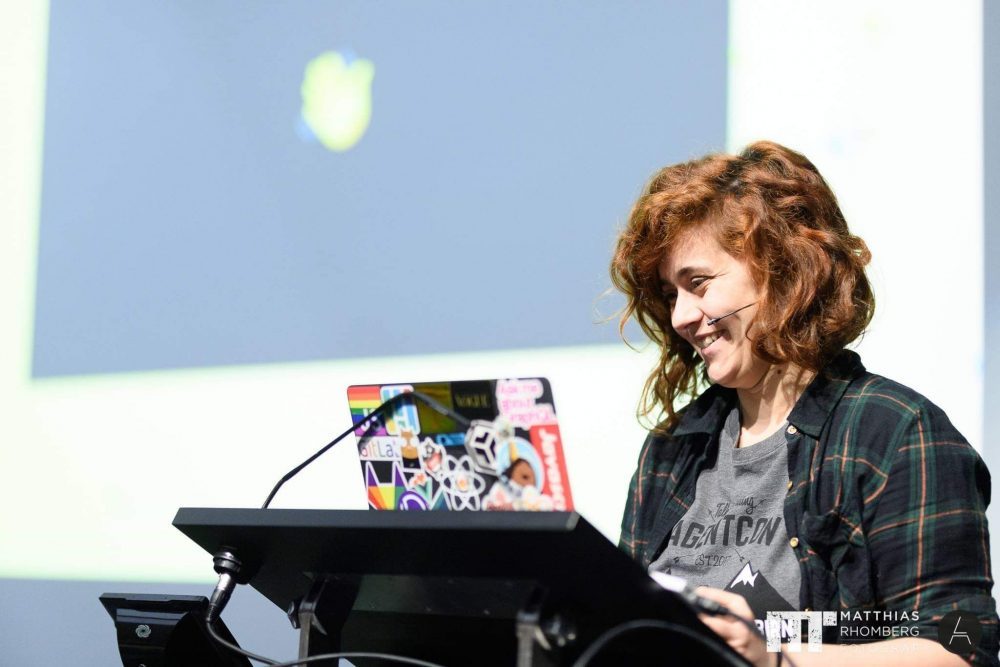 On a humid Thursday evening in July 2019, hundreds of software developers crammed into a Berlin co-working space for a meetup.
However, something set this meetup apart from the dozens of others in the city. Every speaker was queer.
This was the first edition of QueerJS , a meetup where anyone is welcome to attend but only those who identify as queer can take the stage. Following its debut in Berlin, the group grew drastically – organizing events in 10 countries across three continents. QueerJS also hosts a Discord server where nearly 300 members discuss upcoming events, post job opportunities and provide support for those who need to vent.
The driving force behind this effort was Berlin-based software engineer Sara Vieira. Sara is no stranger to the frontend community. She's an internationally renowned speaker and mental health advocate, as well as part of the team behind CodeSandbox, a popular prototyping tool for web development. Despite her past success, she never expected QueerJS to take off the way that it did.
"It has been really overwhelming to create [QueerJS]. Mostly because I didn't expect this," Sara explains. "The idea for the meetup came when a dude on Twitter was upset about an all-woman lineup at a conference. He said 'As a gay man, I wouldn't want to have a conference where everyone is gay' and I immediately was like, this sounds like a great idea. I should make a meetup out of this."
After announcing the concept on Twitter, it became clear that this type of event resonated with many who often feel overlooked or forgotten. This was particularly true for those coming from countries where being queer is shamed or penalized, like Bulgaria or Russia.
"My thinking was that [queer people in tech] don't have that much of a voice and it's important to give people a voice when they don't have it," Sara continues. "But I was only expecting 20 people to show up… I never thought it'd expand into other cities."
Across the room, a voice chime in: "A fire was ignited that first night in Berlin!"
That voice is from Sara's wife, Alex Villa. Alex is also a software engineer and has been a member of the QueerJS core team since its inception.
"For queer people, things are shifting in general. But in tech, everything is very white, straight, male oriented. Being queer is usually not something that you can play around with," Alex says. "There are systems and you have to be serious. You have ones and zeros and you don't mess with that. Something like QueerJS is important because it gives you a safe space for finding a middle ground between what's technical, what it takes to be in tech, and your self-expression as a queer person."
This sentiment of self-expression is evident as you explore past QueerJS lineups. The talk subjects stretch well beyond the confines of 'technical' or 'non-technical.' They seek to address questions like how is queer identity related to software, how have queer people used social media to meet one another and how do we foster safe environments in our offices.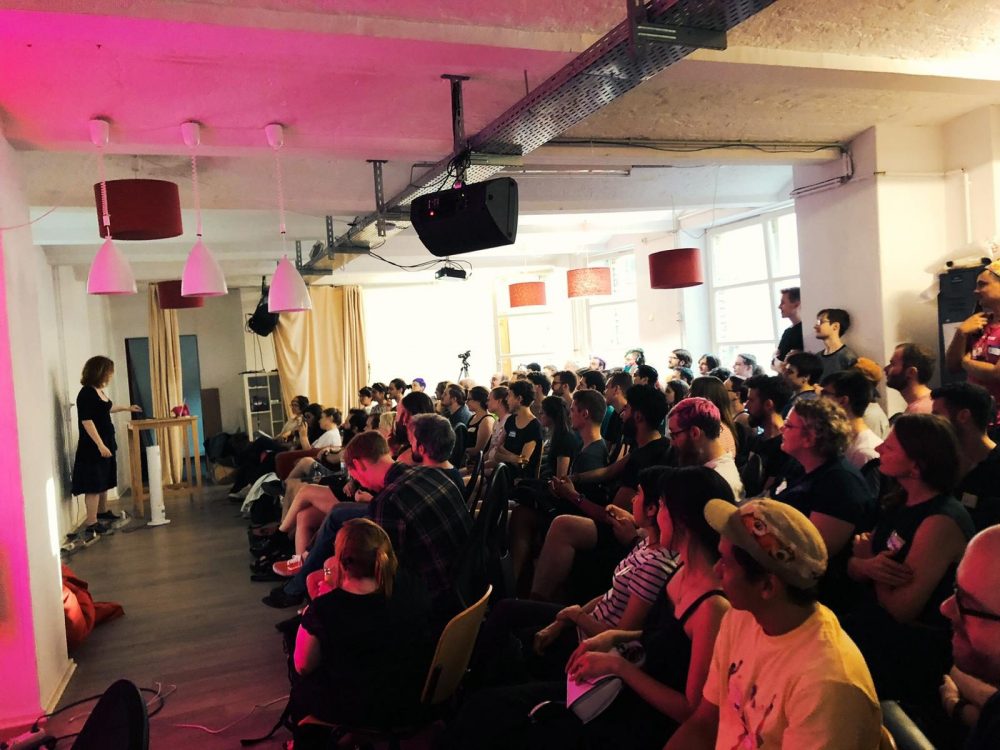 "In the frontend community, we have events about things like React Native, which is already very specific. It's not just JavaScript, it's React. It's not just React, it's React Native.  But we don't have many events about the human side of tech," Sara explains. "There are a lot of technical talks out there, but sometimes we need to go back to the basics of who we are. Before being developers, we're people and after being people, we're queer."
Sara has no specific future planned for QueerJS. She does hope, however, that it continues to be an accessible and safe place for anyone queer working in tech.
"One thing I'll add: Don't stop yourself from pursuing ideas that you think are 'dumb' because you don't know what kind of impact it'll have… I come from Portugal, one of the gayest countries in the world, which comes with a lot of privilege. Sometimes I forget that. But building QueerJS reminded me that giving a voice to underrepresented groups can have a lot more impact than you'd expect."