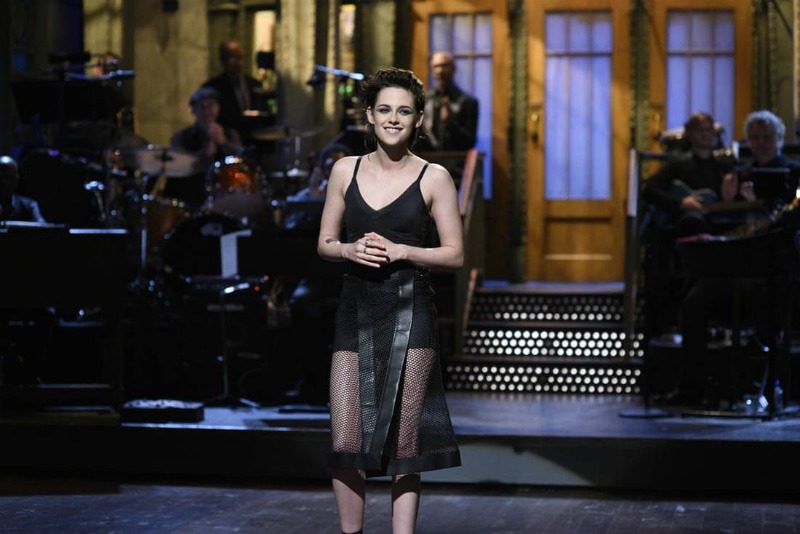 We're like, soooo happy right now.
This weekend actress and queer dreamboat Kristen Stewart hosted the iconic American TV show Saturday Night Live. In her opening monologue she had a message to make Trump mad and us overjoyed.
She started off by reading out a few of the 11 bizarre tweets Trump posted about her and Robert Pattinson back in 2012, explaining:
"We broke up and we got back together and for some reason it made Donald Trump go insane."
Here is an example of one of the actual tweets he posted:
"Everyone knows I am right that Robert Pattinson should dump Kristen Stewart. In a couple of years, he will thank me. Be smart, Robert."
Kristen has her own theory about why Trump was so fixated on her relationship:
"I don't think Donald Trump hated me. I think he was in love with my boyfriend."
Now this was all comedy gold, but things got even more exciting when she stared straight down at the camera and said:
"Donald, if you didn't like me then, you're probably not gonna like me now, 'cause I'm like, hosting SNL and I'm like, soooo gay, dude."
It's not the first time she's spoken publically about her sexuality. In September last year, she confirmed that she was dating film producer Alicia Cargile, telling Elle magazine, "I'm just really in love with my girlfriend." Now she's rumoured to be romantically involved with Victoria's Secret model Stella Maxwell. But this was the first time she uttered the immortal words, "I'm like, soooo gay".
At the end of her speech, she was so pumped up, presumably from just coming out on national television, that she accidentally dropped an F-bomb. Don't worry, K-Stew, this just made us love you even more.
Only reading DIVA online? You're missing out. For more news, reviews and commentary, check out the latest issue. It's pretty badass, if we do say so ourselves.
divadirect.co.uk  //   divasub.co.uk  //   divadigital.co.uk