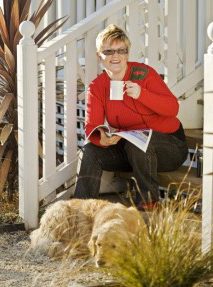 See what's happening behind the doors of this gay-owned and operated boutique hotel.
I'm on the hunt for inspirational stories from lesbian entrepreneurs and business owners. This week, I definitely found one when talking to Christine Lewis from 65 Main, who was a corporate banker in London for more than 10 years until she decided to run her own boutique accommodation property in Australia's gay capital.
What is 65 Main?
65 Main is my dream come true, located in the heart of the twin towns of Daylesford and Hepburn Springs. I established this 5-bedroom boutique property over 10 years ago. It offers accommodation with tailored, unique experiences underpinned by hot tips on the best of Australia's spa capital that only a local would know.
What made you start your own business?
I had a mind shift…I was working in London as a private bank manager chasing boardroom targets and bonuses. I realised that the banking world was filled with "wanker bankers" and no conscious so decided to swap my share portfolio, 2-bedroom flat and Champagne Charlie life for a new wealth of fresh air, community spirit, wine, food and fun.  Starting my own business ensured that I could be true to myself, work from the heart and control my own destiny. The corporate world was in conflict with my moral code so I had to get out!
Daylesford is often called "Australia's gay capital". Can you tell us a little bit more about this?
There are a lot of theories as to how and why Daylesford-Hepburn Springs became Australia's gay capital. Today there are more than 20+ gay-owned businesses, hundreds of LBGT residents, many same-sex parents and of course our biggest country Mardi Gras event: Chill Out Festival! It's so nice to be in a town where you can hold hands with your partner walking down the street, and just blend in without any eyebrow-raising. In my banking role, I was hidden in closet-land, now I can be out and proud with the rest of my community.
What is the best thing about running your own business?
I control my own destiny. I have a job that I love, and customers who love what I do. I have the flexibility to indulge in jogs around the lake, lattes at funky cafes and mucking around with my dog during traditional work hours.
What are the biggest business challenges you've faced so far?
Growing my business from a startup was definitely a challenge. But I overcame it by forming great business relationships and continuing to share passion, enthusiasm and generosity with the community. And then there's work-life balance…I put so much time in my business in the past that my girlfriend felt left out and I lost my relationship. I now ensure that I take time out to see friends, family and loved ones.
Where do you see your business in 5 years time?
I see myself with a smile and spring in my step because my work and play life are just going to get better and better! I am in the process of qualifying as a celebrant so I look forward to also offering unique wedding experiences. Once the government wakes up and approves same-sex marriage, that is!
What advice would you give to any LOTL.com readers wanting to start their own business?
Plan! There is that old saying that "if you fail to plan, you are planning to fail". Ensure there is sufficient financial planning and capital to cover all costs. Follow your gut feeling: it's usually right! Don't let negative people become dream takers and create fears or uncertainties within you. Passion and hard work – achievement only ever comes before work in the dictionary. If you don't have a high work ethic, which is underpinned by passion, then don't start something. If you do something that you are passionate about, then it's easier to achieve excellence. Be grateful and don't take successes for granted. Continue to strive and invest in your clients and supporters at all times.