Tee Franklin's dazzling debut BINGO LOVE features two strong, queer, women of colour falling in love as teens and rekindling that love years later.
Tee Franklin is a queer disabled black woman whose comics work includes: The Outfit (in Nailbiter #27), A Blazin' (in the Ignatz award-winning Elements anthology) and, Tears (in the Eisner-winning and The New York Times Best Selling Love is Love anthology).
Franklin created her own publishing company, Inclusive Press, in order to publish her own comics, as well as comics by other marginalized creators.
Her first graphic novel Bingo Love won the 2017 Queer Press Grant and raised almost $60k via Kickstarter and is now published by Image Comics.
Jenn St-Onge (aka "Princess Jem") is the Canadian illustrator/comic artist behind IDW's Jem & the Misfits and Emet Comics' Finding Molly series.
At its heart, BINGO LOVE is a powerful and timely exploration of love that spans decades.
Tee deftly tells the story of Hazel Johnson and Mari McCray which begins amidst the tumultuous backdrop of the 1960s. A chance meeting at a church bingo hall one Sunday brings Hazel and Mari together.
As young teens, they embark on what promises to be a lasting friendship. As they mature that friendship blossoms into the hope of something more until their families forbid them to see one another.
Eventually, they are pressured to marry men and have families only to reunite at a bingo hall on Mother's Day years later as grandmothers in their mid-'60s. Their long-buried feelings resurface and cast doubt on each of their life choices.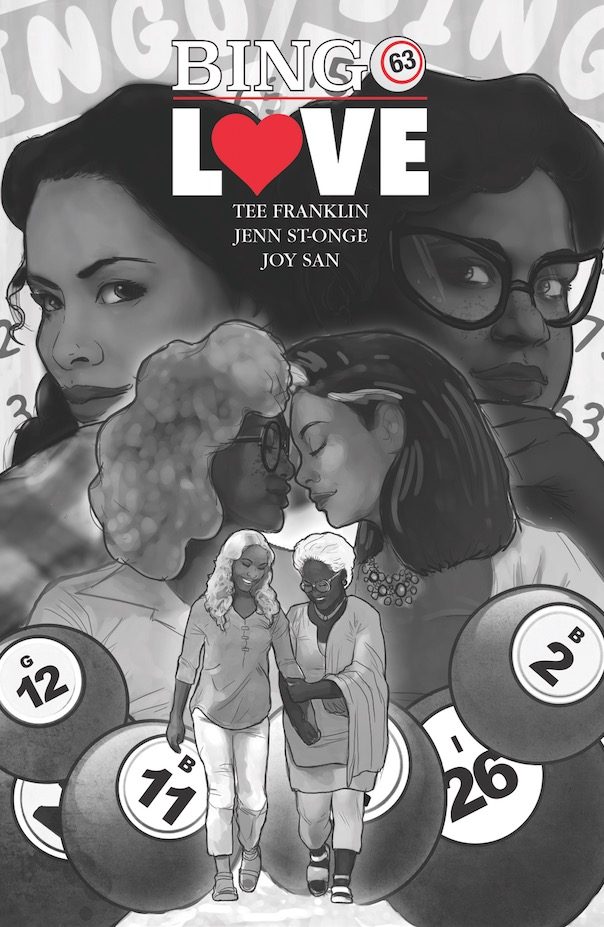 BINGO LOVE is a touching story of love, family, strength, courage and resiliency, by a newcomer to watch. An incredible LGBTQ love story for our time, it joins contemporary classics like Fun Home, Fresh Romance and Stuck Rubber Baby.