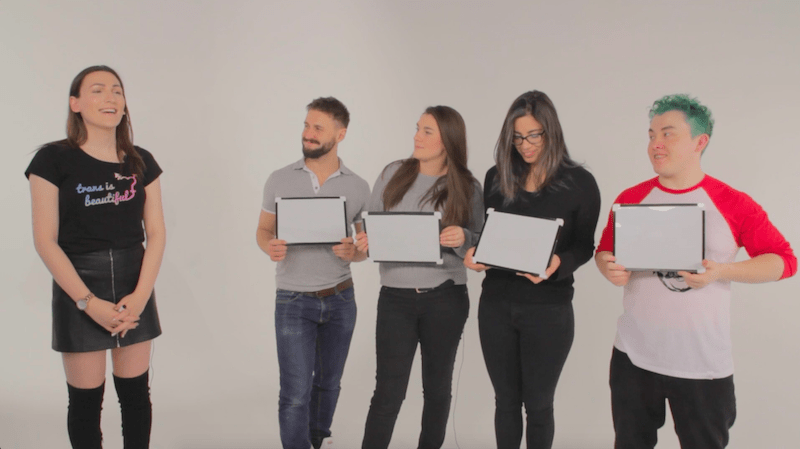 That's what this video is asking…
As part of this year's National Student Pride, the team behind the event are working to bring attention to a group within the LGBT+ communities who are often underrepresented and erased – the 'B' – beginning with a new video on bisexuality.
In the video, a line of young people get questioned, judged and grilled – by someone who goes on to guess their sexuality… *raises eyebrow*
The video is designed to challenge people's stereotypes about what bisexual people look like, discussing common misconceptions and labels that bi people face.
Going beyond bisexual, it also looks at bi+ identities like pansexuality. Though similar to bisexual, which is widely defined as an attraction to more than one gender, pansexuality is more overtly about falling in love with personality – regardless of a person's sex or gender identity.
Bi activist and host of the panel at National Student Pride, Lewis Oakley says this new video shows exactly why bisexuals deserve better from the LGBT community: "From spaces to meet one another, bi inclusive media output and even official representatives who look after the needs of bisexuals."
"Statistically the majority of people in our LGBTI community will be part of the B – bi, queer or pan. But you wouldn't know it", added Gay Star News editor Tris Reid-Smith.
"They are overlooked by media, government, businesses, charities and organisations – even LGBTI ones. With more and more young people saying they are neither gay nor straight, the time to talk about this is now."
In a related story, ​bisexual organisation​ This Is Biscuit is fundraising to bring the first-ever bi pride float to this year's Pride in London.
Since the Crowdfunder went live on 26 February, supporters have pledged over £2000 towards increasing the visibility of bisexual people in this year's parade.
Have you seen our crowdfunder? https://t.co/ws8GZpTL8V

—  thisisbiscuit (@we_are_biscuit) 27 January 2018
Biscuit's Director, Libby Baxter-Williams, said: "It's shocking that in the 46-year history of Pride in London there has never been a bi community float in the parade.
"Pride in London has been outwardly welcoming of bi participants since 1996 when it was officially renamed, but our community still faces animosity. Bi walking groups in the parade often attract nasty comments from the crowds, and sometimes even the stages.
"That's why it's crucial we do this. There is a B in LGBT and that B deserves to be both seen and heard".
Biscuit's fundraiser is open until 2 March, to read more about the campaign click here. National Student Pride runs from 9-11 Feb 2018, for tickets click here.