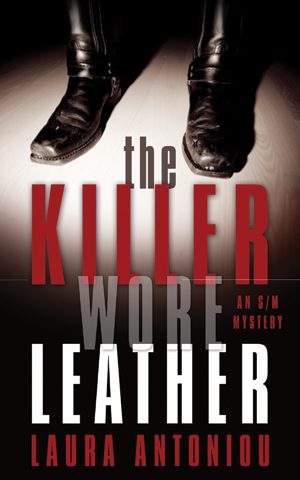 Mystery gets kinky in the latest novel from Laura Antoniou 'The Killer Wore Leather'
Since the 1980s when Laura Antoniou edited the groundbreaking Leatherwomen anthologies, she has been considered a leader in Lesbian BDSM erotic writing and BDSM writing in general.
Beyond Leatherwomen Antoniou is perhaps best known for her Marketplace series, and now is delighting readers with her first mystery novel The Killer Wore Leather an S/M Mystery released this spring from Cleis Press.
I've been a longtime fan of Antoniou's work, but have a serious dislike of mystery novels so I was a bit uncertain about what I would think of her newest book.
Much to my delight, The Killer Wore Leather is one of the first mystery novels I've ever enjoyed; it was hilarious and witty.
The Killer Wore Leather set at the fictional Mr. & Ms Global Leather, and bootblack contest taking place in a Manhattan hotel brings readers into a tongue-in-cheek look at the BDSM communities.
There is a tendency of outsiders to create sensationalized and offensive portrayals of kinky communities; this is not that kind of a book.
The Killer Wore Leather is an incredibly respectful and yet utterly hilarious portrayal. You needn't be familiar with BDSM to understand the book, but for those who are cultural insiders you like me might find yourself bursting out laughing on the subway. In The Killer Wore Leather, no kinky subpopulation is safe from Antoniou's skilled and good-natured mocking. Word of warning, if you can't laugh at yourself, this isn't the book for you.
As the novel unfolds, we learn that last year's Mr Global Leather contest winner Mack Steel is in attendance and making enemies of this year's contestants, hard-working volunteers, and even other judges. Following the goings-on and trying to make sense of the different subpopulations of kinksters from the devoted bootblacks to the mysterious zodiacs, leather dykes and leathermen is Nancy, a reporter who's trying to make sense of this mysterious world but never dreamed she'd land herself in the middle of a murder. The morning after the opening party, Mack Steel is missing and discovered dead in his hotel room.
Assigned to the case is Detective Rebecca Feldblum. As one of N.Y.C.'s only out lesbian detectives, she's immediately put on the defensive when it becomes clear that she's been assigned to the case because her luteniant believes that these are "her people." In reality, Detective Feldblum must quickly wrap herself around the masters and slaves, puppies, ponies, mistresses and submissives in order to solve the case before the conference/contest ends at the end of the weekend and all her suspects return to their local kinky communities around the country.  
Filled with brilliant twists and subplots, there might even be a surprise in store for Detective Feldblum when she unexpectedly runs into an ex-girlfriend, Trudy who is attending the conference. Back in the past, Trudy had broken up with Feldblum after she joined "a fascist, patriarchal system of oppression" also known as the police force.
Detective Feldblum doesn't have much time to focus on the possibility of rekindling a relationship with her ex-girlfriend, because she's got a murder to solve. Filled with twists and turns of any well-written who-done-it, The Killer Wore Leather is filled with numerous suspects all with valid motives for killing the unpopular contest winner.
Every time I thought I knew who'd killed Mack Steel, someone else with an equally convincing motive would appear. Ultimately, I was left piecing together clues and uncertain until the final pages and if that isn't the mark of a good mystery I don't know what is.
 Not trying to captivate on a Fifty Shades of Grey phenomenon, this book is the real kinky deal. Antoniou brings readers into the leather community as only an insider could. Antonio's brilliant humour doesn't allow anyone to take themselves too seriously.  
Seamlessly translating BDSM community customs The Killer Wore Leather has something for everyone, from the mystery reader who has no interest or knowledge about BDSM to the experienced leather person who will delight in the insider jokes. The Killer Wore Leather is a novel that only Laura Antoniou could write.