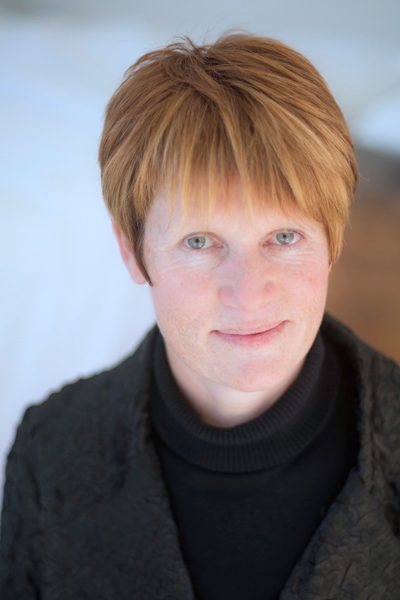 This Aussie author put her own lesbian twist on historical fiction in 'The Raven's Heart'
Australian author Jesse Blackadder has taken on the historical fiction genre à la Sarah Waters, with her novel, The Raven's Heart.
But she adds a twist–a personal, lesbian connection to Mary Queen of Scots–that is all her own.
You live in Byron Bay, Australia, an idyllic and sunny place. Did it take you a lot of effort to recreate the dark and violent 16th Century Scottish world of the Blackadders?
It's true, I live in a warm subtropical climate on the easternmost tip of Australia, but perversely I really love the cold and wish I lived somewhere that had snow and ice.
It was no trouble for me to imagine a cold and dark place–in fact I travelled three times to Scotland (including once in mid-winter) for my research and I wrote a big chunk of the book while on a writer's residency in Sitka, Alaska waiting for the first snows of winter.
Creating a violent world was another matter altogether, in stark contrast to the alternative peace-loving culture that surrounds me. I'm the kind of person who can't watch violent movies and I was surprised at the violence I was capable of imagining.
I react to written violence in a different way and find it less disturbing than on-screen violence, but it definitely required a mental leap and it was a bit creepy to think of what's down in my subconscious.
You travelled to Scotland to find the origins of your surname and discovered the ruins of Blackadder House on the banks of the Blackadder River. Are these characters of your lineage? Where does fact end and fiction begin with the characters and the events of the book?
Family history researchers think it's likely all Blackadders come from the original family that took its name from the Blackadder River in Scotland. The young widow Alison Blackadder lived in the castle with her two young daughters for five years after her husband was killed–then she was forced into marriage with the powerful neighbour, who turned up with an army to convince her.
She had six children with him in the next seven years. She's a real woman and her story is still told today around those parts. Another Blackadder, William, was caught up in the plot to assassinate the husband of Mary Queen of Scots.
Those real characters all appear in the book, and I created a fictional character, also called Alison, who is the centre of "The Raven's Heart." Alison goes into the service of the Queen of Scots, and the Queen's story is all historically accurate.
How many years and months of research did this book take? And were you ever overwhelmed by the material or felt it at odds with the freedom of imagination?
Thank God I had no idea at the start what it would take to research and write the story. I spent more than five years on it, wrote tens of thousands of words that were discarded, did huge amounts of research, and eventually pared it down to the finished length.
The material did feel overwhelming at times, but it didn't stifle my imagination–quite the opposite. My creativity was stimulated by dreaming up how my fictional character could move through the dramatic real events from the short reign of the Queen of Scots in Scotland.
I'd find little hints in the historical records about strong women who'd been with the Queen and helped her in sticky situations–and gradually my picture of Alison grew.
Some may compare you with Sarah Waters; how true would that comparison be for you?
Sarah Waters blazed a trail in bringing lesbian stories to mainstream audiences, in ways that still amaze me. We're talking dildoes, lesbian sex and cross-dressing on the BBC, in the case of "Tipping the Velvet." Incredible. I'm sure it was easier for me to publish "The Raven's Heart" because Sarah's books have created almost their own genre of historical fiction dealing with hidden sexualities.
The cross-dressing, same-sex attracted character of Alison Blackadder, disguised as a boy from childhood and infatuated with the Queen, adds suspense and interest for lesbians. Did you worry about any criticism of this perspective from mainstream readers?
I have had some surprised comments from reviewers who weren't expecting a lesbian/bisexual character, but on the whole readers have been caught up in the story and have been willing to go on Alison's journey.
I wanted to show a lesbian character as a fully rounded person, not only defined by her sexuality. I also wanted to capture a sense of sexual ambiguity. After all, although men of the day were often accused of being sodomites – including the husband of the Queen of Scots–lesbianism didn't exist as an identity in the way we know it today.
But passionate friendships–and perhaps sexual relationships–between women certainly existed. Mary Maitland wrote a love poem to another woman that was published in the 1586 Scottish collection The Maitland Quarto Manuscript. She was compared to Sappho–a poet who was part of classic education in those days– and in the poem she dreamt of changing into a man so she could marry the woman she loved. It was (just) within the bounds of friendship poetry of the era, though the lines…
So great joy does my spirit fulfil
Contemplating your perfection
You wield me wholly at your will
And ravish my affection 
…suggest a passion struggling to stay within social limits. I think many mainstream readers are interested in the notion of sexual difference having a history.
I enjoyed the movie Farewell My Queen, and this has elements similar to that. Have you found that the book has a wider readership than fans of historical fiction?
Many of my readers have said: "I don't normally read historical fiction, but this was different." I didn't set out at the start to write historical fiction–I aimed to write a strong story, epic in scope, which would carry the reader into another world – just what any good book does. The main character's journey tests her notions of love, loyalty and identity, and that could happen in any era.
You have been described as a bold, fresh (new) voice, but you have been writing for some time. What else of your work might be of interest to lesbians?
It's funny that you have to write for years before finally being described as a fresh new voice. However, I am new to the American market, as The Raven's Heart is my first book published internationally. I have two other novels that have been published in Australia–After the Party (2005) and Chasing the Light (2013), which I hope will soon be out in America.
————————————————
Support your LGBTQ Media