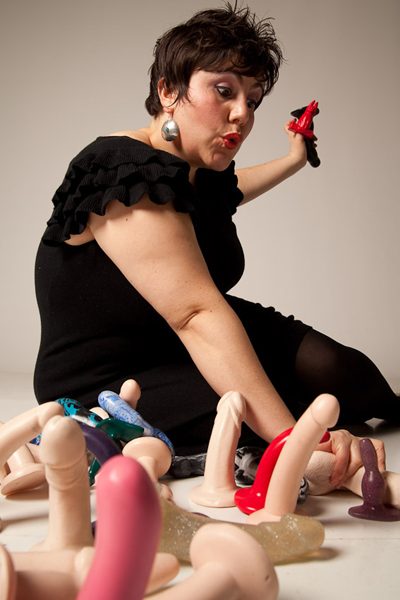 Nothing can make my day like a UPS truck driver.
Julie Andrews can have her brown paper packages tied up with string, I'll take mine as a cardboard box closed with industrial packing tape.
Before I had even signed for my new goodies, my friend AK-47 whipped out her key and opened my box, as eager as I was to see what was inside.
There, wrapped in all its hot pink tissue paper glory, was hours of entertainment, courtesy of Babeland.
About a month ago, I contacted Babeland's customer service for help spicing up my self-love life. As I mentioned in "Pollute Thy Self,"  they were remarkably helpful and quick in suggesting some toys that might expand beyond my normal erogenous zones and send me to yet known peaks.
It took a bit of time for me to choose but eventually, I followed their advice and got an Iceberg Love Bumper, a Sqweel, a Fling, a Candy Apple Red Kink Kit and the book Moregasm.
Opening my box, I felt like a kid in a candy store, grabbing handfuls of treats, unable to choose what to try first.
The Kink Kit, in all its red leather glory, unfortunately, had to wait until I had someone to play with, so it was first to go back in the box. The same went for the Iceberg Love Bumper, a toy better used with a partner. AK-47 took Moregasm the book and wouldn't give it back, so no reading was going to be done tonight. This left the Fling and the Sqweel – one in each hand – for me to choose from.
I actually threw a tantrum when I realized I didn't have the right kind of batteries for the Sqweel. Honestly, who keeps AAAs around these days?! Even my remote controls and smoke detectors have AAs—I checked them each twice.
So, Fling, it was, and oh was it.
Listed as an "Eco-friendly sex toy," the Fling is a piece of bamboo carved into a bulbous shape and covered in a sex safe lacquer.
Babeland's description says it "combines art, pleasure and conscience in one incredibly beautiful package," and I would have to agree.
My fingers fit perfectly into the visually appealing grip holes carved at the bottom, making me eager to try it on both myself and a partner. I should mention that Token Straight Guys' fingers barely fit in the holes, so if you're of the larger handed variety, you may have grip issues. For me, however, it fit like a glove.
Speaking of gloves, the Lubrosity™ lacquer on the Fling is non-porous,  making it easily cleanable with soap and hot water between uses and partners. This means you don't have to use a condom, although some may still prefer to do so.
As for me, a hot bath and lube were all it needed.