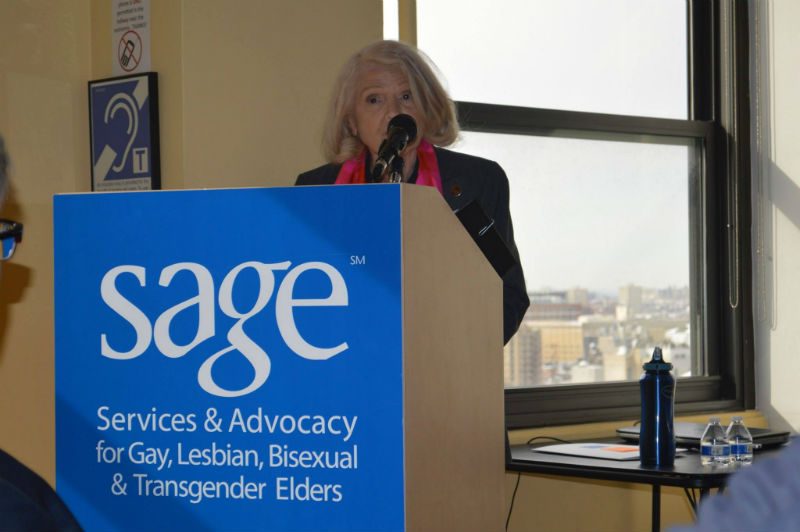 Housing leaders gather for launch event and panel discussion.
Finding affordable, livable and safe housing can be a real problem for older LGBTs, who disproportionately live in poverty, often as the result of lifelong—and often continuing—discrimination.
A 2014 report by the Equal Rights Center, with support from SAGE, found that 48% of older same sex couples applying for senior housing as part of a national test were subjected to discrimination.
In New York, NY, on February 3, 2015, the Services and Advocacy for GLBT Elders (SAGE) launched a comprehensive national initiative to address the LGBT older adult housing crisis, hosting a panel discussion at its national headquarters. There to discuss the issue was marriage equality pioneer Edie Windsor and key leaders who have been working on this issue across the country.
Jennifer Ho, Senior Advisor for Housing and Services at the U.S. Department of Housing and Urban Development, said that "the LGBT community's needs must be front and center" as HUD expands senior housing across the country.
"Addressing the current housing crisis is a critical first step in improving the lives of LGBT older people—which is the heart of SAGE's mission," said Michael Adams, Executive Director of SAGE.
SAGE's Initiative has formulated five strategies to expand housing opportunities for LGBT older people:
Building LGBT elder housing and sharing SAGE's expertise from such projects;
Training existing housing facilities to provide housing in an LGBT-welcoming, non-discriminatory manner;
Changing public policies to clear the way for more LGBT elder housing and bar housing discrimination against LGBT older people;
Educating LGBT older people in how to look for LGBT-friendly housing and how to exercise their rights; and
Expanding LGBT-friendly services available in housing sites across the country.
SAGE will also partner with HELP U.S.A., a national affordable housing developer, to build New York City's first LGBT-inclusive older adult housing.