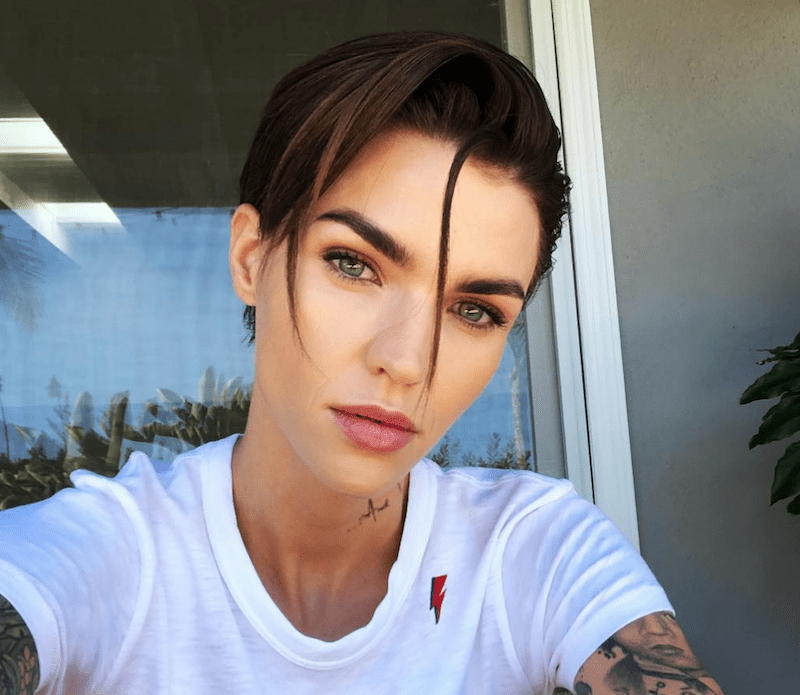 Ruby Rose – we just can't enough of her.
The Australian DJ turned Orange Is The New Black star is plastered all over the internet, which we're certainly not complaining about. We already know quite a bit about this sex goddess but here are ten facts that you (probably) don't know about her.
Or maybe you did, but either way, it's an excuse for us to stare at pictures of her… for "research".
She downed 100 shots of beer in 100 minutes in a competition against Jackass star Bam Mangera. Please marry me.
She's a devout animal welfare activist and stripped naked for a photo whilst holding a fluffy grey cat for an anti-fur campaign for PETA. I'm jealous of the cat.
She has so many tattoos that she's actually lost count. It is said that 30 was her last estimate but who knows now? I'd like to take this opportunity and offer to solve this problem by coming over to count them for her – Ruby? What do you say?
She has a pet pig called Hazel who she enjoys chilling with by the pool. Now I'm jealous of the pig.
She is the face of Maybelline NY in Australia. Well, I think we can all agree that she should be the face of probably just about everything. Perhaps the face of my ceiling included.
She came out of the closet at 12-years-old and was severely bullied for it. I'd like to see those bullies faces now that she's the hottest and sassiest chick on the block.
Her girlfriend *heart breaks* is one half of pop sensation The Veronicas. Power couple.
Her real last name is Langenheim. Rose is actually her middle name!
She identifies as gender-fluid and says: "I feel like I wake up every day sort of gender-neutral, I feel like I'm neither gender.

Well, if I had to choose it would be a boy, a guy. I feel like I'm a boy, but I don't feel like I should've been born with different parts of my body or anything like that. I feel like it's just all in how I dress and how I talk and how I look and feel, and that makes me happy." You can be whatever you want babe, I'll love you always.
This is a fact which I know you definitely don't know but… Ruby and I are actually going to get married. She doesn't know it yet and neither does Jess but I'll tell them both eventually.