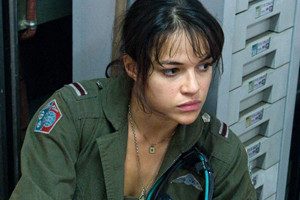 Michelle Rodriguez has been setting off our gaydar for years, but the Battle: Los Angeles star insists she's not on our team.
The actress was recently at a premiere for the new film, in which she plays USAF Technical Sergeant Elena Santos, and was asked if there were any rumours to clear up. She said, 'I'm not a lesbian. Yeah! Mitchie likes sausage.' Perhaps we could've done without that last part.
Lesbian rumours have hounded Rodriguez for years, but it seems like she's always playing parts that make us gay girls swoon – like a sexy surfer girl in Blue Crush or an ass-kicking pilot in Avatar.
Though she has never spoken about her sexuality directly, she has been in a high-profile relationship without actress Kristanna Loken.
Or maybe they were, like, just friends. Because she likes sausage.