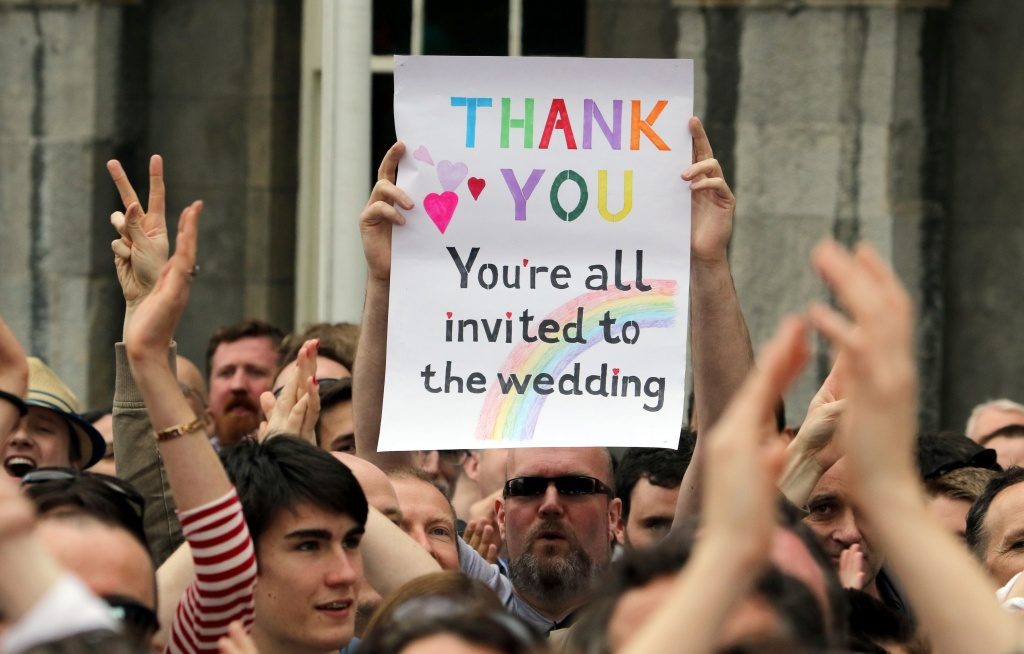 The U.S. wasn't the only place dealing with April showers and May flowers this spring. Here's a look at the latest ups and downs in LGBT international news.
On April 19th, 2009 1,000 people showed their ire in Ireland outside of the Central Bank in Dublin, where a protest was held in support of the legalization of same-sex marriage. However, they may have jumped the gun as the country is still procrastinating on passing the civil-partnership bill introduced by Irish Minister for Justice and Equality Brian Lenihan in March.
Hungry for change, the Hungarian Parliament passed a registered-partnership law for same-sex couples on April 20th, 2009 with support from the governing Socialist Party and the Alliance of Free Democrats. While a similar law passed by Parliament was overturned by the Constitutional Court in January, this time President László Sólyom is expected to sign the measure, which will grant same-sex couples all of the rights of marriage except for adoption, assisted reproduction, and sharing a spouse's last name.
No longer helping Alberta's transition to Alberts, Alberta Canada's government-run healthcare system will no longer be paying for sex-change operations, sighting budgetary reasons for the decision. However, the 26 people who were previously granted paid surgeries will still receive them, as will 20 other people who were in the final stages of approval.
The South Pacific island nation of Samoa showed their lactose intolerance when The Samoa Film Control Board opted to ban the movie Milk after a local store submitted the winning film for approval and a rating. No explanation has been given for the reaction.
On April 1st, it became sweeter to be Swedish. Norway's neighbour became the seventh country in the world to legalize same-sex marriage, with an overwhelming passing vote of 261 to 22 following a five-hour Parliament debate. The new law officially went into effect on May 1st.
And good news for Sapphic Serbians just squeaked through by a one-vote margin when a narrow 127-59 result by the Serbian National Assembly banned all forms of discrimination based on sexual orientation on March 26th. Local lesbian rights group Labris says that the law makes clear that "everybody has the right to express their sexual orientation in public".