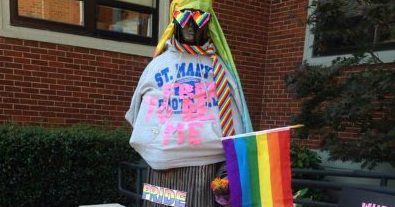 After intense backlash, a catholic school has decided to update their policies.
An American Catholic School has announced that they will be adding sexual orientation protections to the school's employment policies. This decision comes after the decision made earlier this month to rescind an offer of employment to 27-year old Lauren Brown after finding out that she is a lesbian. Brown was hired by St. Mary's Academy back in May for a counsellor position.
The school sent papers to Brown with the decision to rescind their offer along with a year's salary and benefits. Brown decided not to sign the papers that would obligate her to keep quiet about the situation.
The decision caused outrage among students, parents, and alumni. Students protested on campus by dressing up a statue of a nun with rainbow flags and signs with such sayings as "Free to be me?"
On Wednesday, Christina Friedhoff, St. Mary's Academy President, released a statement saying "St. Mary's is a diverse community that welcomes and includes gay and lesbian students, faculty, alumnae, parents and friends, including those that are married."
The school already filled the position that was originally offered to Brown, but school officials say they "are reaching out to her and her attorney to discuss options for reconciliation."