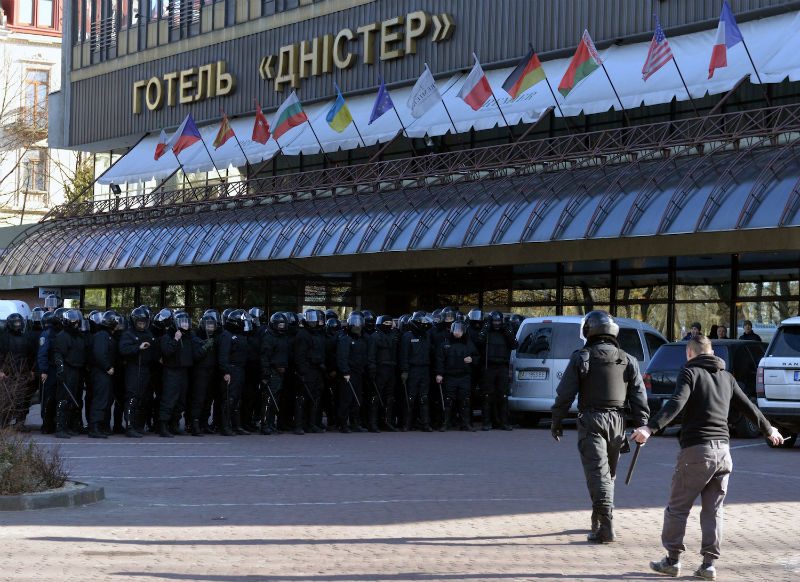 An LGBT equality festival was cancelled in Ukraine following violent protests from a far-right group.
Protesters were chanting "kill, kill, kill," as festival participants hid inside.
The festival was one of three branches of a Kiev festival that was first held in December. It had scheduled literary readings, film screenings, and public events.
Lviv, a major tourist destination in western Ukraine, displayed an unsupportive nature throughout the planning of the event. Venues that had already been booked started backing out of the festival saying they would only support the event if the Mayor of Lviv gave his approval.
One of the organisers for the festival, Olena Shevchenko, said when they arrived at the hotel they had booked, they were told they were not allowed to stay there. She said, "The administrator told us the city authorities had told them we were perverts. They had Googled us and said people like us should burn in hell."
It is estimated that 200 people convened outside the hotel and were chanting, "Kill, kill, kill," as 70 festival participants hid inside.
Shevchenko stated that when people contacted police, it took an hour for one car to arrive. The festival goers were eventually evacuated from the hotel by a bus as the protestors continued chanting.
The authorities' behaviour and the violent protests were condemned by many government officials.
MP Mustafa Nayyem said, "The authorities should always react when people's rights are infringed upon. It doesn't matter whose rights it is – LGBT people, the opposition, patriots, migrants, women, the elderly or children."
US Ambassador to Ukraine Geoffrey Pyatt took to twitter to express his thoughts. He wrote, "Bad news that Lviv Equality Festival was unable to proceed due to violent counter protests. Displays of intolerance in Lviv at odds with the European future so many Ukrainians have sacrificed for."
Ukraine's Minister of Foreign Affairs Pavlo Klimkin also tweeted, "Tolerance & non-discrimination make Ukraine stronger. I condemn attack on #LGBTI activists in Lviv. Police are investigating the case."
However, the Mayor of Lviv, Andriy Sadovy, made a statement on Facebook that lays equal blame on both parties for the incident. He wrote, "Yesterday's events in Lviv are a result of a carefully planned provocation. Participants from both sides were conscious or unconscious parts of the whole picture."