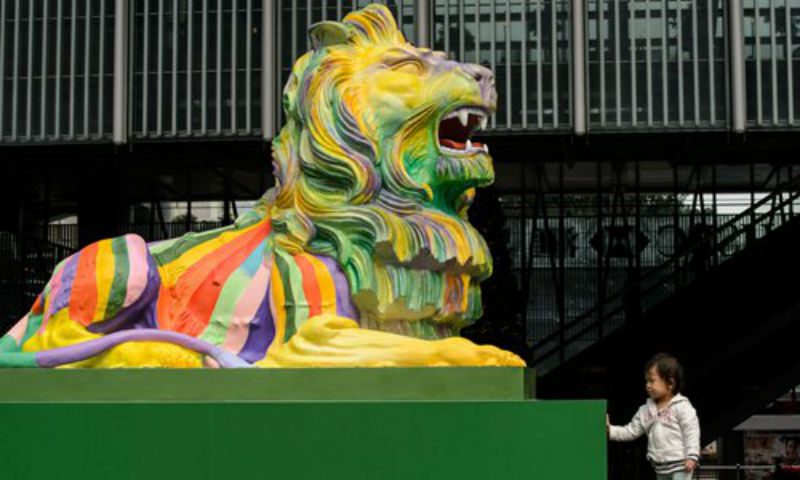 Rainbow replicas of Hong Kong's iconic lion statues sparks debate.
The LGBT rights debate in Hong Kong has been re-ignited with the unveiling two rainbow replicas of Hong Kong's iconic lion statues. The lions have stood throughout the bank's history for courage and prosperity.
The statues sit in the HSBC bank building and were painted as part of HSBC's "Celebrate Pride, Celebrate Unity" campaign that focuses on LGBT rights.  The replicas were designed by Michael Lam, a local LGBT artist and will be displayed until the end of December.
The debate revolves around the question of whether corporations should be involved in discussions concerning LGBT rights. While there has been a huge show of support for the campaign, multiple campaign groups have come together to petition the statutes.
It is reported that already, 4,500 people have signed the petition. The petition organiser, Roger Wong Wai-ming from the Family Schools Sodo Concern Group told the BBC, "The lions are an icon of Hong Kong. A lot of Hong Kongers have a certain affection for them—and it's not right that they are projecting meanings onto them, that a lot of people may disagree with. "
While there has been a backlash, many supporters have taken to social media to vocalise their approval.
Recent surveys show that 91% of people between the ages of 18-24 support anti-discrimination legislation. Currently, Hong Kong has laws that protect people from discrimination on the grounds of gender, disability, race and family status but not sexual orientation.
A spokeswoman for HSBC said, "Having a workforce that reflects the diversity of our millions of customers in Hong Kong and which draws on a wide range of perspectives makes us better able to serve the whole community."