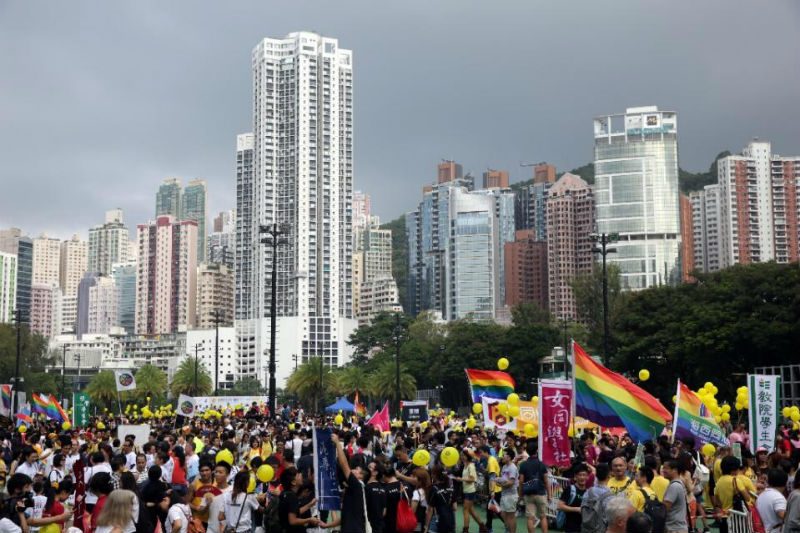 We have waited 20 years for anti-discrimination legislation already, and that's far too long.
On Saturday, Hong Kong's annual Pride Parade took place, bringing attention to and calling for equal rights including marriage equality.
An estimated 1,000 people showed up to parade through downtown Hong Kong. Many of the demonstrators were discussing how far behind other major Asian hubs Hong Kong is in terms of LGBT rights.
One woman, Carol Yung, said, "There's still a lot of room to improve, compared to Taiwan and even to Japan. These days they are…already discussing about same-sex marriage, but in Hong Kong, we're still very far behind."
LGBT issues have once again come into the spotlight following comments from the city's Catholic bishop that infuriated members of the LGBT community.
The Cardinal said, in a letter published last Thursday, that the "concepts of marriage and family were being challenged" by "the gay movement".
The parade parallels a landmark court case in which a British woman challenged the government's refusal to grant her a visa to live in the territory with her partner is expected to have a judgement this month.
Professor Mark Green stated, "I think Hong Kong is making enormous progress. We're seeing changes…in the way that people react and respond to gay people in the workplace and society." He added, "The government is really a little bit behind the times when it comes to recognising LGBT rights." pointing out that even China recognises the need to give same-sex couples dependent visas.
He said, "We really need the government to take the lead and get up to speed with the rest of the world."