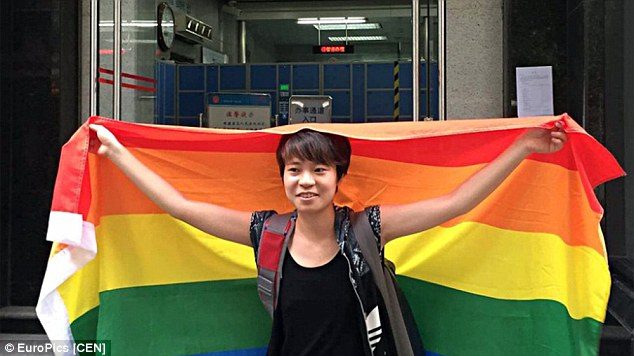 Multiple textbooks are still claiming homosexuality is a "psychological disorder".
On August 14, a 21-year-old university student at China's Sun Yat-sen University in Guangzhou filed a court case against China's Ministry of Education.
Qiu Bai, the young woman's pseudonym, officially took the government to court on Tuesday over the demonizing language used to describe homosexuality as a "psychological disorder" in a textbook found in the university's library.
Homosexuality was officially decriminalized in China in 1997 but it remained on a list of mental illnesses until 2001.
The textbook with the demonizing passages was published in 2015 by Renmin University and was distributed to students nationwide.
The excerpt reads, "The most commonly encountered forms of sexual deviance are homosexuality and the sick addictions of transvestism, transsexuality, fetishism, sadism, voyeurism and exhibitionism."
Qui's legal team pointed out that other psychology textbooks contained similar content.
In fact, the director of the non-profit LGBT Rights Advocacy Peng Yanhui cited a study saying, "Of the 90 textbooks available in the libraries of Guangzhou, 42 per cent present homosexuality as a disease or abnormality."
Qui has said that she hopes to make sure such materials "no longer harm students". She has also stated that she is "excited" by her "first opportunity to have a face-to-face dialogue with the ministry of education."
While attitudes are changing in major Chinese cities towards LGBT individuals, many feel strong social and family pressures to keep their sexual orientation a secret.
Supporters held signs outside the Fengtai district court in Beijing with the phrases: "We want a fair judgment" and "Homosexuals must gain visibility."