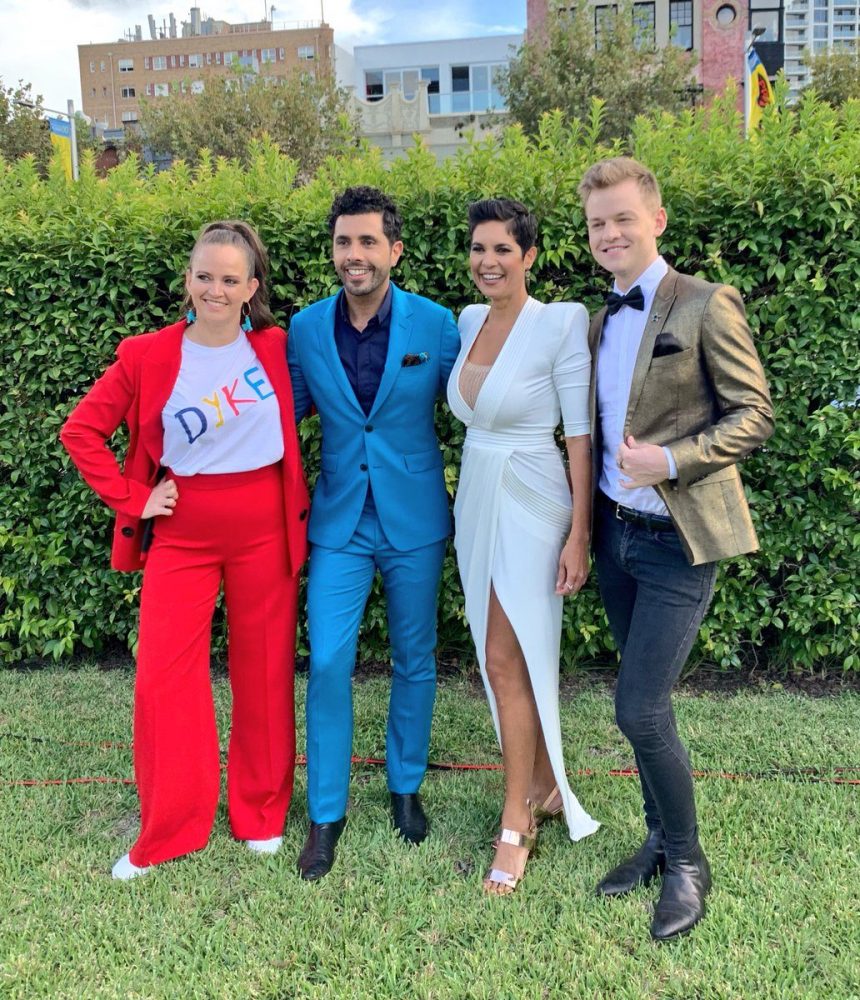 Narelda Jacobs and Joel Creasey join Patrick Abboud and Zoe Coombs Marr to host the 2019 Sydney Gay and Lesbian Mardi Gras
The 2019 Sydney Gay and Lesbian Mardi Gras parade is set to dazzle screens across Australia for another year on SBS, via a special broadcast of the parade on Sunday 3 March at 8.35pm.
10 News First Perth presenter Narelda Jacobs, comedian Joel Creasey and The Feed's Patrick Abboud will be joined by comedian Zoe? Coombs Marr to host coverage of the event.
Narelda Jacobs said: "It's a huge privilege to host such an important event. As always, I'm humbled by the courageous attitude of our community, who show the world what resilience and love looks like every day. 41 years of pride and protest is an amazing achievement and certainly something to celebrate. Wishing everyone a very happy Mardi Gras!"
Joel Creasey said: "I am over the moon (or perhaps rainbow) to be hosting the Mardi Gras broadcast again. Last year was an incredibly special celebration of love and acceptance, and this year is a great opportunity to reflect on the fearless, fabulous characters who make our community so wonderful. I am especially excited to be presenting alongside Narelda Jacobs who I have loved and watched read the news in Perth for many years. And for the first time we'll be joined by the hilarious Zoe? Coombs-Marr alongside Mardi Gras regular, the brilliant Patrick Abboud. It's going to be a truly epic evening!"
Founded in 1978, the Sydney Gay and Lesbian Mardi Gras remains one of the world's largest and loved LGBTIQ+ celebrations. This year the festival is themed Fearless, to honour the sense of resilience, activism, protest and celebration that makes up the LGBTIQ+ community and fuels the continued fight for equality.
Zoe Coombs Marr said: "Hosting Mardi Gras this year feels like a triumph in many ways. After face planting in the middle of the parade as a 19 year old, I feel relieved to claw back some of my dignity. I'm also filled with immense pride to be part of the LGBTIQ+ family, and cannot wait to be on Oxford St with them showcasing my exceptionally bad dance moves."
Patrick Abboud said: "I'm so excited to be hosting for the sixth year! 2018 was a huge milestone, an absolute honor to celebrate the legends that brought us through four decades fighting for freedom. Now we look to the future. I'm doing something really special this year with the new guard of LGBTIQ+ young people working across the country to make their communities more inclusive. These fearless warriors for change will surprise you, move you, and shock you as their stories unfold across the broadcast. It's a new format that I can't wait to reveal."
The television broadcast will feature the most fabulous floats and costumes in the parade, interviews with celebrities and special guests, commentary from Narelda Jacobs and Joel Creasey, as well as on ground coverage from The Feed's Patrick Abboud and Zoe? Coombs Marr. Patrick will also present another very special series of untold stories that will be shown throughout broadcast.
A live stream of the parade will be available on SBS On Demand and the SBS Twitter account on Saturday 2 March. SBS Arabic 24 will report live from the Sydney Gay and Lesbian Mardi Gras Parade to Arabic-speaking audiences around Australia.