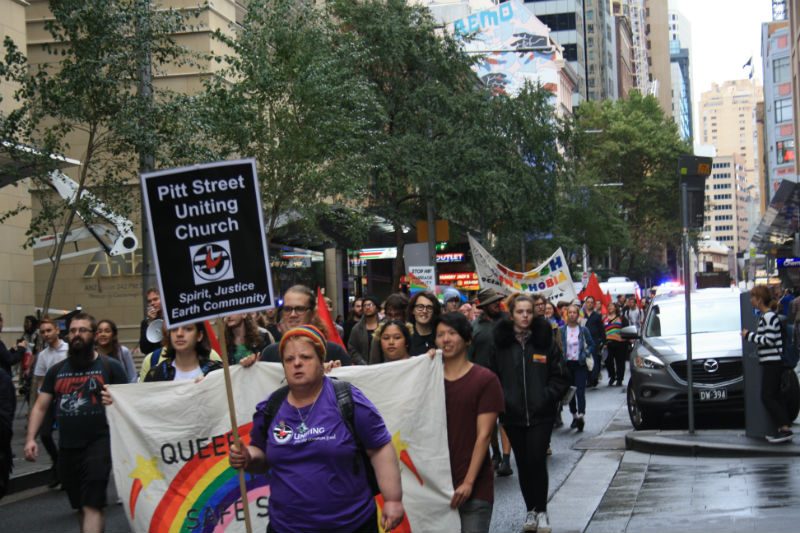 Protesters have slammed the Australian Christian Lobby's (ACL) opposition to the Safe Schools program and same-sex marriage during a protest at the ACL'S annual conference
Around 100 protesters gathered outside the Wesley Conference Centre in Sydney where the conference was being held on 23 April. They carried banners and placards voicing their support for Safe Schools and marriage equality.
Community Action Against Homophobia (CAAH) organised the protest, which featured a number of speakers including LGBT students and a 78er.
"We want to shame everyone who's attending that conference inside and we want to end the ties between the Australian government and the Australian Christian Lobby," co-covenor of CAAH Cat Rose said."It's disgusting to see our Federal treasurer speaking alongside such openly homophobic people."
Treasurer Scott Morrison, a vocal opponent of marriage equality, was a headline speaker at ACL's conference alongside ACL's Wendy Francis, American author Eric Metaxas – who compared the acceptance of homosexuality with the rise of Nazism – and Jeffrey Ventrella from the US legal advocacy organisation Alliance Defending Freedom.
Ventrella, who advocates for maintaining the criminalisation of homosexuality in a number of countries including India and Jamaica, was interrupted during his speech by Simon Hunt, a UNSW lecturer.
Hunt, also known as Pauline Pantsdown, approached the stage dressed in pyjamas with a pink triangle on them to represent the people persecuted for their sexuality in Nazi Germany. He was escorted from the conference while gesturing to the fake blood on his hands and saying, "This is the blood of the children you have attacked."
The ACL warned conference goers against leaving the conference centre due to the protest outside.
Representatives from the Pitt Street Uniting Church were also in attendance at the protest, with Reverend Dr Margaret Mayman condemning the ACL for creating a 'toxic' discussion around marriage equality.
"The ACL do not speak for the majority of Christians. Two thirds of Christians in Australia support marriage equality," she said.
Marinella and Emma are two LGBT students who traveled from the Blue Mountains to protest against the cuts to Safe Schools.
"I just want to be accepted in a school community and not worry about going to school every day," said Emma, 14.

"I think we deserve the chance to be safe," said Marinella, 15.
The protest ended with the chalking of a huge rainbow outside the Wesley Conference Centre.