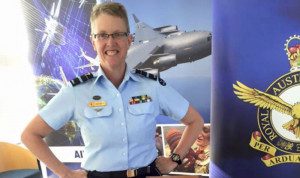 Lesbian Officer, Tracy Smart makes history in the Australian Defence Force.
Tracy Smart, also known informally as 'Warrior Doc', has been promoted to the two-star air officer. This promotion makes her the most senior out lesbian to serve in the Australian Defence Force.
The promotion allows Air-Vice Marshal Smart AM to take on the role of Commander of Joint Health Command and Surgeon-General of the Australian Defence Force.
In 2009, Smart was promoted to Air Commodore and was involved in major revolutions in health care delivery services during a time of growing demand.
Her new role will see Smart responsible for the delivery of health services to members of Defence and the medical readiness of Defence personal for operations. Smart will also oversee and be responsible for providing health advice and technical oversight of operational health services.
Very few women reach the two-star rank in the Defence Force and Smart is the only out lesbian to receive a promotion.
While Smart takes time to be a visible within the LGBTI workforce, she downplays her gender and sexual orientation when discussing her career saying, "Everyone has a sexual orientation…mine has no material effect on the decisions I make or how I command."
She also adds that she "thinks Defence people are far more interested in the type of leader that you, and the environment that you create in your command. If you have that right, then inclusive and respectful behaviour simply become 'business as usual' and expected."
Smart is excited about the opportunities her new position will provide. She says, "I am passionate about providing high quality health care to the men and women of the ADF—ie helping those who serve our country—that's really what I focus on when I come to work each day. I'm very proud of the work of our men and women and I am keen to deliver effective health services for ADF personnel at home and when deployed."