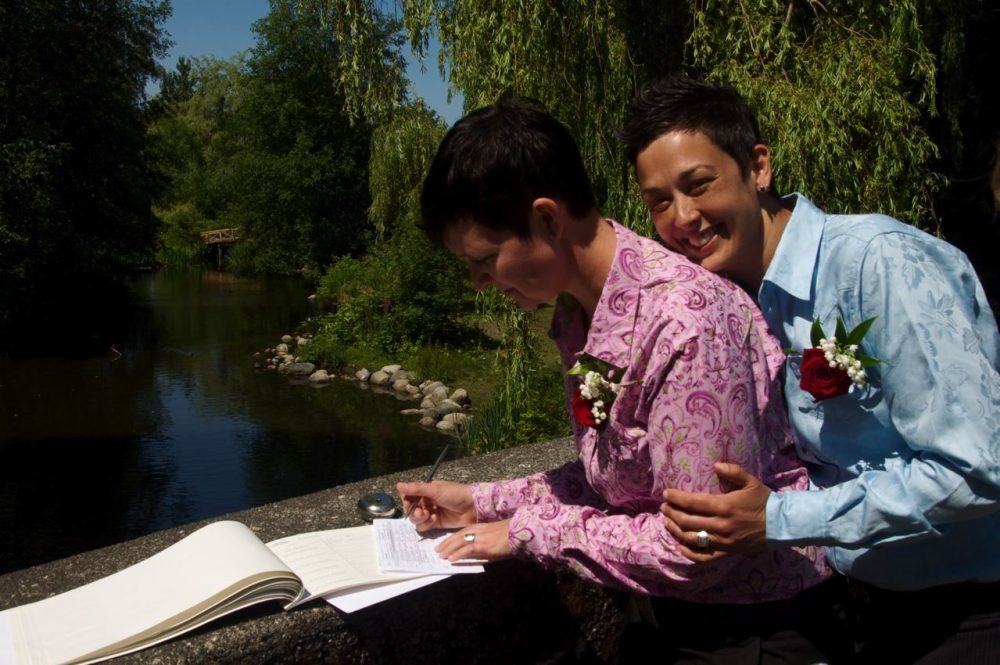 Like thousands of other people living in Australia, our story is simple: we met, fell in love, and chose to make a lifelong commitment to each other.
But that is where the similarities between our story and the stories of approximately 118,756* other Australian couples end.
On 11 July 2009, we were married in Stanley Park, Vancouver, Canada. Our ceremony took place on a stunning summer's day. We were surrounded by fir and cedar trees. A family of raccoons gatecrashed our ceremony.
Our marriage should have been able to take place in our home country of Australia: the fir trees replaced by eucalypt, the racoon with rainbow lorikeets. The Marriage Act (1961), manipulated by the Howard government in 2004 to define marriage as 'the union of a man and a woman', denies us this right.
Same-sex marriage is not only legal in Canada but is celebrated as an integral part of the country's social identity. Following our marriage ceremony, people of all genders and backgrounds congratulated us. Strangers toasted us in bars. We were offered marriage and honeymoon specials in hotels and restaurants.
Everyone we met was not only shocked to learn that same-sex marriage is not legal in Australia but that upon our return home, the Australian government would not legally recognise our overseas marriage.
Just under a year after our wedding, on 24 June 2010, we listened with hope to Julia Gillard's opening speech as Prime Minister, in which she committed to a stable and responsible government. There was talk about values and fairness and improving and protecting essential public services and the fundamental rights of Australians. She sounded passionate and genuine.
We felt compelled to write to her to reflect upon Prime Minister Gillard's words. We emailed her, congratulating her on being sworn in as the first female Prime Minister of Australia. We also shared with her our hope that she would one day soon make history by becoming the first Prime Minister to announce the legalisation of same-sex marriage in Australia. We extended to Prime Minister Gillard an invitation to meet with us – to talk, to listen, to question and to understand better the significance of marriage equality in the lives of two everyday people.
Today, whilst we respect Prime Minister Gillard's beliefs about marriage, we are offended and outraged by her continued reinforcement of the Labor Party's out-of-date policy on same-sex marriage and her recent remarks that the Australian government has taken steps to 'equalise treatment for gay couples.
The role of the Australian government is not to be popular, to implement policy based on personal beliefs, or to take minimum steps to 'equalise treatment'. The role of the Australian government is to represent and be accountable to the Australian people. The responsibility of the Australian government is to govern by the principles of tolerance, respect, equality and justice and to take every possible policy measure to remove discrimination, prejudice and bigotry from the Australian way of life.
Our government must respect and defend the rights of all Australians. Our government is responsible for ensuring that we are all recognised as equal before and under the law and that we all have the right to equal protection and equal benefit of the law without discrimination.
We understand that not everyone will want to get married, but there is no denying that marriage is a fundamental institution in Australian society. The right to be married should therefore be available to all who pursue it. It is a right that we decided to exercise.
We were married under Canada's Civil Marriage Act, which extends the legal capacity for marriage for civil purposes to same-sex couples, and ensures equal access for same-sex couples to the civil effects of marriage and divorce. The Civil Marriage Act also allows officials of religious groups to refuse to perform marriages that are not by their religious beliefs.
In 2010, there is no reason why Australia could not introduce legislation comparable to Canada's Civil Marriage Act to allow for the legal recognition of same-sex couples to marry for civil purposes whilst simultaneously protecting the right of religious groups in Australia to perform marriage ceremonies by their own beliefs.
In 2010, no democratically elected government should ever have the power to select whose and which rights they will defend and whose and which rights they will deny.  If the fundamental human rights of one group of people can be withheld, then so, potentially, can the human rights of others.
Like thousands of other same-sex couples, we have exchanged vows to continue fighting to have our right to equal access to marriage upheld and protected.
And our message to Prime Minister Gillard is that we will not settle for anything less than equal.
Jules Cole and Jen Rae were married in Vancouver, Canada, in July 2009. Both live, work, study and play in Melbourne and have the support of family and friends to one day be legally married in Australia. Equal Love will hold several Marriage Equality rallies around Australia on August 14.
* According to the Australian Bureau of Statistics, there were 118,756 registered marriages in Australia in 2008