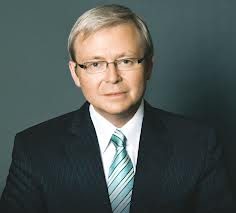 With another leadership change in the Labor party and a new Prime Minister for Australia, there is hope for marriage equality.
Marriage equality advocates have welcomed Kevin Rudd's election as Prime Minister, saying it opens up a new chapter in the marriage equality debate and will increase pressure on Tony Abbott to allow a conscience vote.
Mr Rudd announced last month that he supports the reform, unlike former Prime Minister Julia Gillard.
Australian Marriage Equality national director, Rodney Croome, said,
"Having a Prime Minister who supports marriage equality opens up a new chapter in the debate because, as we have seen in the US, New Zealand, France and Britain, such high-level leadership is crucial to achieving this reform."
"Kevin Rudd's support for marriage equality will be an important point of difference with Tony Abbott, increasing pressure in Mr Abbott to allow a conscience vote and bringing marriage equality to the centre of the federal election campaign."
"Mr Rudd's stance will also draw young voters to the Labor Party and galvanise the Labor grassroots behind him, given that both groups strongly support this reform."
"Most Australian Christians will also welcome a Christian Prime Minister who represents their support for marriage equality."
Mr Croome said marriage equality advocates would seek a meeting with Mr Rudd to discuss the future of the reform.