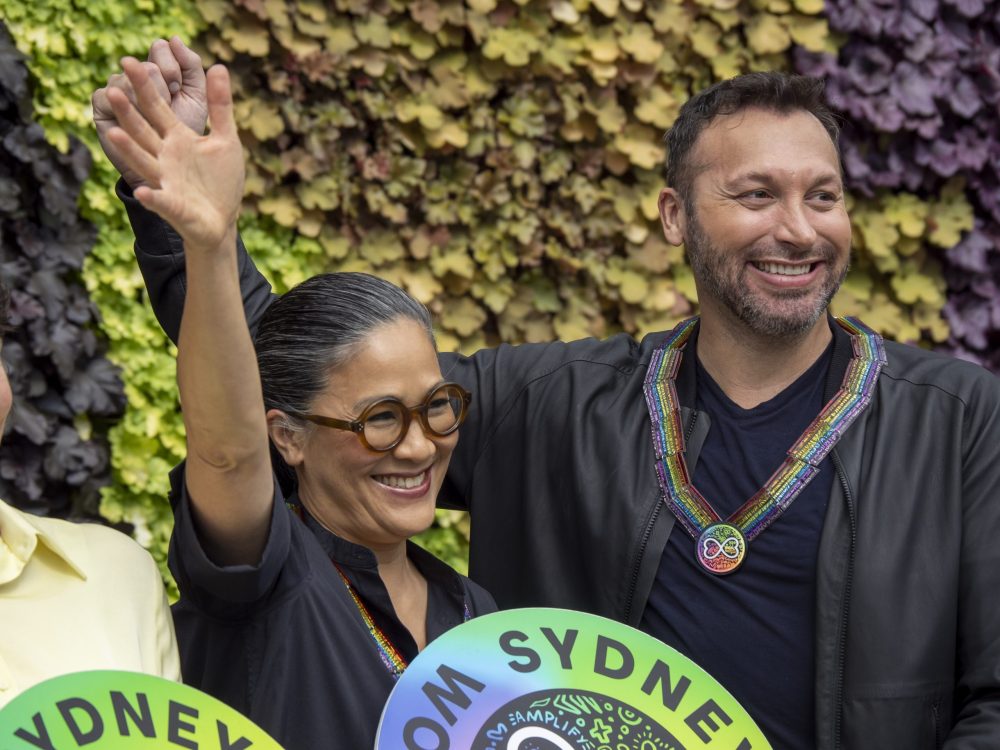 Over the last few months, Sydney WorldPride has recognised the achievements of members of the Australian LGBTQIA+ community by honouring them as Rainbow Champions – with the final 10 of 45 Rainbow Champions announced today.
The 10 Rainbow Champions being honoured today represent a diverse cross-section of the community, with entertainers, presenters, trans advocates and sporting stars all being recognised.
A total of 45 Rainbow Champions have been recognised, representing the 45 years since the first Sydney Gay and Lesbian Mardi Gras took place on 24 June 1978.
All 45 Champions have been chosen for their contribution to the Australian LGBTQIA+ community and culture. The final 10 Rainbow Champions are:
Patrick Abboud (he/him) (NSW) – Walkley award-winning journalist, filmmaker and TV presenter.
Josh Cavallo (he/him) (SA) – professional footballer.
Joel Creasey (he/him) (VIC) – TV and radio host and comedian.
Electric Fields (SA) – music duo made up of performer Zaachariaha Fielding (he/she), and producer-composer Michael Ross (he/him).
Kylie Kwong (she/her) (NSW) – celebrated chef and restaurateur.
Robyn Lambird (they/them) (WA) – Paralympian and model.
Deni Todorovic (they/them) (VIC) – LGBTQIA+ activist, author and content creator.
Bhenji Ra (she/her) (NSW) – performer and interdisciplinary artist.
Georgie Stone OAM (she/her) (VIC) – actor and advocate for trans and gender-diverse youth.
Ian Thorpe AM (he/him) (NSW) – multiple Olympic champion.
Kate Wickett, Sydney WorldPride's Chief Executive, said: "The 10 Rainbow Champions being recognised today come from all walks of life – from talented chefs and world-recognised sporting stars to trans advocates and artists.
"Sydney WorldPride is only possible because of the first-ever Mardi Gras in 1978, when a small number of people came together, in defiance of popular opinion, to push for progress for the LGBTQIA+ community.
"The 45th anniversary of Mardi Gras in 2023 is an essential reminder that we all can make change happen.
"As we mark the 45th anniversary of Mardi Gras in 2023, it is an honour to be celebrating the incredible achievements of all our 45 Rainbow Champions and acknowledging the immense work that has gone into achieving progress for the whole LGBTQIA+ community."
The complete list of Rainbow Champions can be found at www.sydneyworldpride.com/rainbow-champions/.
As well as celebrating significant LGBTQIA+ Australians, Sydney WorldPride is also transforming Sydney into a Rainbow City for the duration of the festival, with organisations across Greater Sydney installing 45 rainbow public artworks to celebrate the festival.
These rainbows include an abstract floral installation at The Calyx at the Royal Botanic Gardens, an update to the Coogee Beach Rainbow Walkway to include the colours of the Progress Pride Flag, and a Progress Pride flag on the Scenic Skyway in the Blue Mountains.
Sydney WorldPride is a mega Mardi Gras festival from 17 February to 5 March 2023. Over 17 days, Sydney will host more than 300 LGBTQIA+ events, including the Rainbow Republic presented by Optus, Marri Madung Butbut: The First Nations Gathering Space, and the much-loved Mardi Gras Parade, which will be returning to Oxford Street for the first time in three years.
The festival program of over 300 events across WorldPride Official, WorldPride Arts, WorldPride Sports and Pride Amplified are on sale now.
Final tickets go on sale next week for major events, including Live and Proud: Sydney WorldPride Opening Concert presented by American Express and Bondi Beach Party presented by Optus.