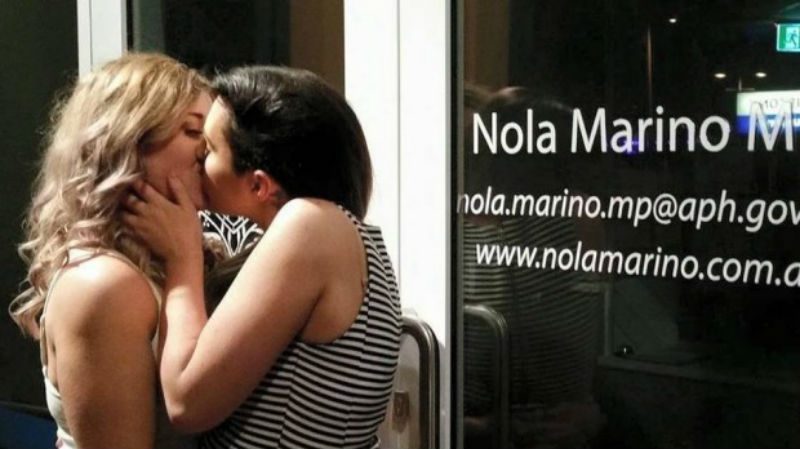 The message behind this passionate kiss: "Marriage equality is important from a human rights perspective."
There never comes a break in the fight for marriage equality. A lesbian couple from Western Australia has taken on the responsibility of showing politicians and the public that the issues surrounding same-sex marriage will not be put on the back burner.
Georgia Simpson and Rhiannon Harrold posted a picture, that has now gone viral, on Facebook showing the two sharing a passionate kiss outside federal MP Nola Marino's office.
Marino recently stated that Western Australia "as a whole is not ready to accept" same-sex marriage.
Both Simpson and Harrold have made statements about what they wanted to achieve by taking the picture and posting it online.
They stated that they "support the Australian Human Rights Commission's position that 'the fundamental human rights principle of equality means that civil marriage should be available, without discrimination, to all couples, regardless of sex, sexual orientation or gender identity." and that "with the wellbeing of LGBTI among the poorest in the country and LGBTI making up 1 in 4 of the country's homelessness population, we cannot afford to continue to embrace discriminatory legislation that leads to social isolation and exclusion."
By sharing a kiss in public, these two women have shown that the public will not back down when it comes to marriage equality. With the majority of Australian's in support of same-sex marriage, it is time for the government to move forward into a brighter and more inclusive society.