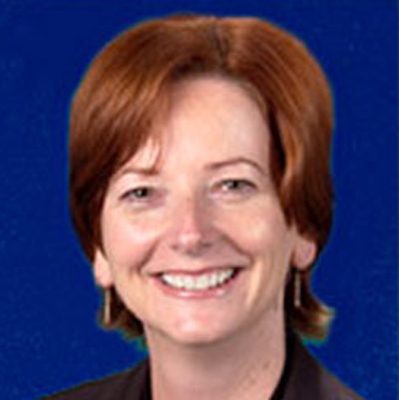 Newly-sworn in Prime Minister Julia Gillard has prompted outrage after her public comments that she does not support gay marriage.
Speaking on the Kyle and Jackie O radio show, Gillard said: "We (the Labor Party) believe the marriage act is appropriate in its current form, that is recognising that marriage is between a man and a woman, but we have as a government taken steps to equalise treatment for gay couples."
Gillard went on to say the policy reflected her personal view.
Lesbian entertainer Ruby Rose quickly attacked the PM's comments via Twitter.
"When asked her personal opinion she stated yes, she also believes this and it reflects community views. Listen lady. OK so community views? She has not asked the community for their views – we didn't even elect her! Australia elected her mate she screwed over," Rose tweeted. "I'm just pissed off at the ranga. I expected more taste from a 1st female PM."
Senator Hanson-Young, Greens' spokesperson on Sexuality and Gender Identity, said Gillard's stance was at odds with a range of opinion polls that proved the majority of Australians support gay marriage. "It's disappointing to hear that Prime Minister Julia Gillard will maintain Labor's out-of-date policy on gay marriage,'' Senator Hanson-Young said. "The question is does she know, or does she care what opinions are held within her own party and the wider community?"
Senator Hanson-Young's Marriage Equality Bill, the first dedicated piece of legislation designed to allow gay marriage, was voted down by a huge majority. Hanson-Young has vowed to reintroduce the bill and said she was hopeful Gillard would allow a conscience vote, unlike Kevin Rudd.
"We hoped that a new leader would lead to a change of thinking, but sadly Ms Gillard's comments show she and her Government remain willing to stifle debate,'' she said.
Gay activist groups are so outraged by Gillard's comments that they have asked another world leader to step in and "educate" her.
Australian Marriage Equality national convener, Alex Greenwich, has written to the Icelandic Prime Minister, Jóhanna Sigurðardóttir, who recently married her same-sex partner, Jonina Leosdottir, asking the Icelandic PM to explain the importance of marriage equality to Ms Gillard. "Our hope is that this leader-to-leader contact, especially between two ground-breaking, centre-left Prime Ministers, will show Julia Gillard that marriage equality is fundamental to the lives of gay and lesbian people and to a just society," he said.