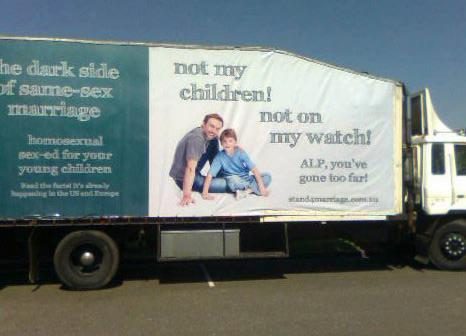 An anti-marriage equality billboard will take to the highways this month as the lead up to the same-sex marriage act heats up in the senate.
if the latest billboard from Christian group, stand4marriage is to be believed, same-sex marriages will put young children at risk…
Images of the truck,  which was spotted by social network users in Gosford yesterday –  who quickly posted pics to the net which soon went viral –  have garnered expressions of outrage from many users for the clearly displayed homophobic messaging
The truck is on its way to Queensland as part of the Queensland Election Prayer Rally Tour to target ALP electorates with its anti-gay message.
The truck will travel through Taree, Kempsey, Casino, Lismore, Gold Coast and the Sunshine Coast, on its way to a major prayer rally at King George Square in the Brisbane CBD on March 22, two nights before the state election.
Stand4Marriage.org.au website is registered to Australian Heart Ministries and Warwick Marsh – the founder of the Fatherhood Foundation. Marsh is a former Federal Government Men's Health Advisor who was relieved of his position in 2008 for his anti-gay views.
Queensland equal rights advocate Phil Browne commented to Sydney Star Observer that the Pray Rally Tour was  "derogatory and offensive to most Queenslanders."
"[It] denigrates gays by promoting a skewed and inaccurate message," he said."Brisbane is a peaceful tolerant city and Peter Madden is not welcome to promote misinformation, hate and division within the community."
Browne called on Brisbane Lord Mayor Quirk to immediately cancel the planned prayer rally to show that Brisbane was a fair and tolerant progressive city.
The Billboard truck will return to Sydney on Sunday, April 1 for an anti same-sex marriage rally…