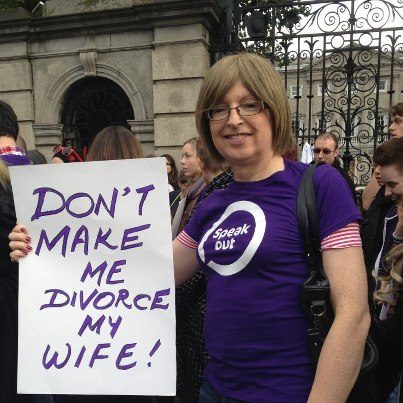 A new movement shines a promising light on recognition and acceptance of the Tasmanian Transgender community.
A Tasmanian transgender advocate has welcomed a bill to be introduced today which will remove the requirement that transgender people must divorce if they want the government to officially recognise their gender.
Greens' Leader, Nick McKim, will today introduce a bill to remove the divorce requirement from the Births, Deaths and Marriages Act.
Tasmanian transgender advocate, Martine Delaney, welcomed the move saying,
"Couples facing the gender transition of one partner are already under enough stress without being forced to divorce. Anyone who believes in marriage and in keeping couples together should oppose this cruel and unnecessary provision. If my late wife was still alive, Tasmanian law would force us to divorce even though we made the decision to stay together despite my gender reassignment.No-one should be forced to choose between the official recognition of their marriage and the official recognition of their gender."
Under Tasmanian law people who have gender reassignment can only amend their birth certificate to represent their true gender if they are unmarried, forcing married transgender partners to divorce.
Ms Delaney went on to say the issue should not be confused or conflated with same-sex marriage.
"Although the Marriage Act says partners entering a marriage must be of different genders, there is nothing in that Act which requires states to terminate marriages because one partner changes their gender."
Similar legislation will be introduced today in the NSW and South Australian parliaments.
To read Ms Delaney's personal story about transgender forced divorce in today's edition of the Hobart Mercury, click here.