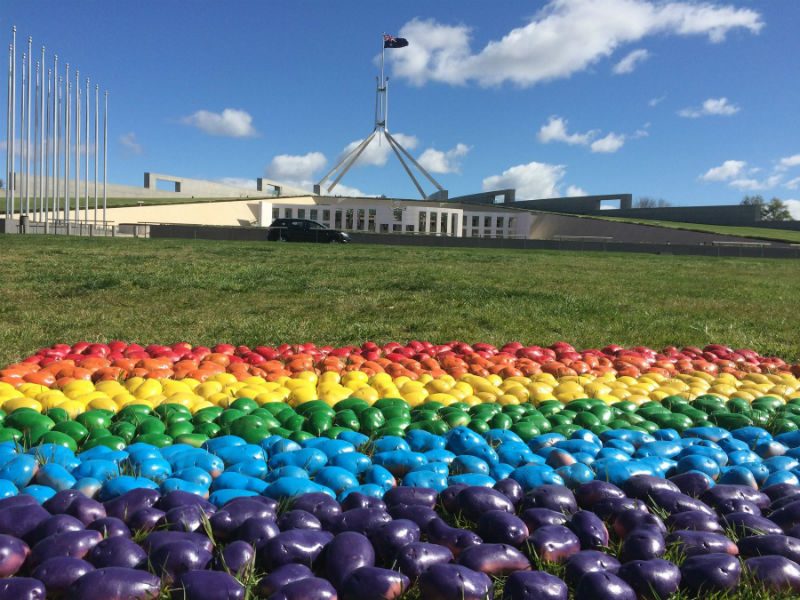 Two Australian students are showing their support for marriage equality in a very unique way.
As pressure continues to mount on the Australian government to address marriage equality, citizens from all over the country are showing their support.
Two teens turned equality activists from Geelong recently delivered a message outside Parliament House in Canberra.
Will Richards and Daniel Butson painted 1,000 potatoes in the colours of the rainbow and arranged them in a spectacular and very unique Pride Flag within view of Parliament House.
Spray painting the potatoes took some time for experimenting for the boys to obtain the best and most vibrant colours.
Richards said, "We had to try a few different paints and different potatoes and stuff. We ended up using a mix of the normal white ones and then the red ones for the different colours. For some reason, it just worked better."
The two boys, that run their own Potato Messenger company, originally planned to send the potatoes to Tony Abbott. Their plan changed when new Prime Minister Malcolm Turnbull took control and announced he intended to stick with the plan for a vote after the next election.
Richards and Butson have stated, "Our ultimate goal is to have enough attention around the delivery of LGBT potatoes for Australia to even more clearly see how absurd our government is acting and truly show how the people obviously feel."
Their official website states that "Despite the recent leadership spill with Malcolm Turnbull resulting in becoming Australia's new Prime Minister, the Liberal Party's stance on marriage equality still doesn't believe in equality!"  The mission statement also adds "Even with Malcolm Turnbull having a history of supporting marriage equality, he is still sticking with the Coalition's plan to put marriage equality to a public vote next election, with adding an additional $44 million of taxpayers money…"
Both young activists believe that "Marriage equality can clearly seen as universally accepted by our global society and we as the people want Turnbull to reflect this by passing it through parliament now, instead of wasting the taxpayers money in something can already be predicted by simply seeing the support for marriage equality around Australia."