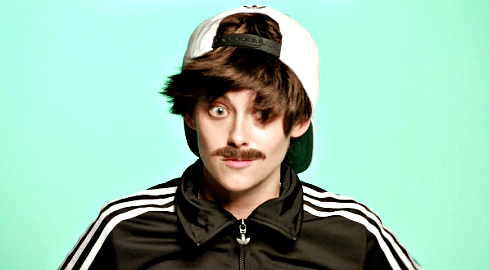 Singer-songwriter Jenny Lewis gets a little gender-bending help from a trio of friends in her latest video, "One of the Guys."
Our favourite crush gets her dude on and likes it.
Kristen Stewart, Anne Hathaway and Brie Larson each don drag for the song, which is for Lewis's solo album The Voyager. Larson, Hathaway and Stewart also back Lewis as bandmates wearing white suits (could K-Stew look any less enthusiastic as herself?).
"I'm just another lady without a baby," sings Lewis in the song, which seems to be about the ticking of her biological clock and lack of a suitable male mate.
Meanwhile, her three girlfriends goof around dressed as dudes in gross tracksuits.
Interestingly, K-Stew positively comes alive underneath that moustache and looks adorable, in a Justin Bieber kind of way!
We're not going to rag on K-Stew for her legendary inability to crack a smile. It's her prerogative if she wants to reject the tyranny of the girly grin.
But it is nice to see her having so much fun, and it's interesting that it took drag to bring it. Could it be that deep inside she really wants to be "one of the guys"?