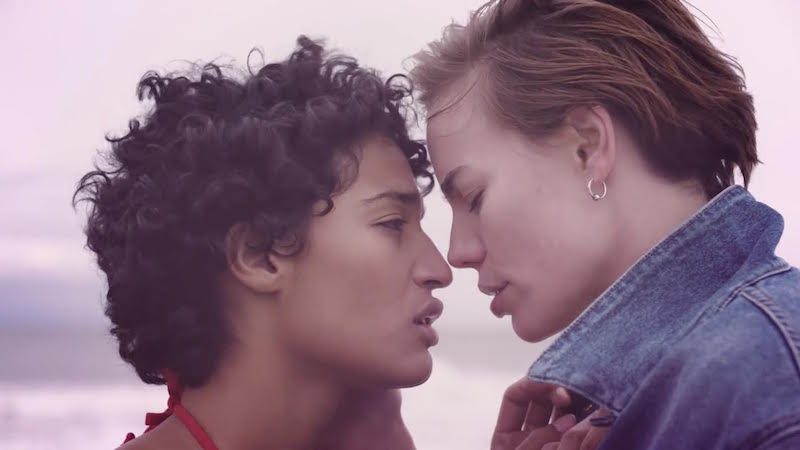 Enjoy this haunting, stunning music video
Sometimes a music video comes along that just pulls you in and breaks your heart. But you're okay with it. Because. It's. So. Damn. Beautiful.
Music producer, songwriter, and art director J.Views' latest offering, the film clip for his song 'Don't Pull Away (ft. Milosh),' does just that.
The video stars gorgeous transwoman of colour, Indya Moore as the artistic and romantic interest of a completely alluring, androgynous photographer, played by lesbian model Elliot Sailors.
Amidst a hazy pink beach backdrop, Sailors photographs Moore, who poses in a red one-piece swimming costume. At some moments she is totally at ease with her body; at others, she holds her arms and hands, palms facing outwards, just parallel to her body, and her poses become tentative like maybe she's modulating her movements dependent on Sailors' reactions (which are unseen to us).
The lyrics that accompany these shots could speak of the experiences of some trans people in relationships – Moore certainly delivers the song's lines with the kind of sad intensity that makes the viewer feel she must be speaking directly from her own heart – but they also speak to the uneven push-pull that happens so often in relationships:
It hit that you changed your ways
that look on your face
it hit that you changed our place
but give it some time
I'll give you more, I'll give you more
The video concludes with the most passionate kiss (lesbian or otherwise) that we've seen on film in quite some time. Sailors, for her part, is physical, confident, sure. Moore responds to Sailors' kiss with animated, hungry need.
Seriously, you won't find a more engrossing way to spend 4 minutes and 11 seconds of your day.
And in case it was niggling at you, yes, you probably do recognize Sailors. She's been of great interest to mainstream media sources for some years now, as in 2012 she famously decided to highlight her androgynous beauty by working as a male model, and then in late 2015 divorced her husband of five years due to the fact that she now identified as a lesbian.
Moore is a relative newcomer to the modelling game but has already made a huge impact, working for clients like Dior, Gucci and GQ. Further, in Saturday Church, she is about to star in her first feature film, as the captivating Dijon, directed by Damon Cardasis.  The film is the musical coming of age story of Ulysses, a shy and effeminate teen who escapes from a tortured home life into his imagination and New York's Village where he discovers supportive friends such as Dijon who are on a similar path. Saturday Church was selected for competition in the upcoming Tribeca Film Festival where it will have its world premiere on April 23.
Moore is also co-starring in the upcoming tv/web series, Mistranslated, which she has described thusly: "Imagine a cool comedic yet dramatic mashup of Atlanta, Broad City and Awkward Black Girl… but deeper 'cause we're dealing with the discounted experiences of women who are at the lower rung of the ladder, Black trans women." Three episodes have already been produced, and it will be pitching at international content markets for 2017. Sign. Us. Up.