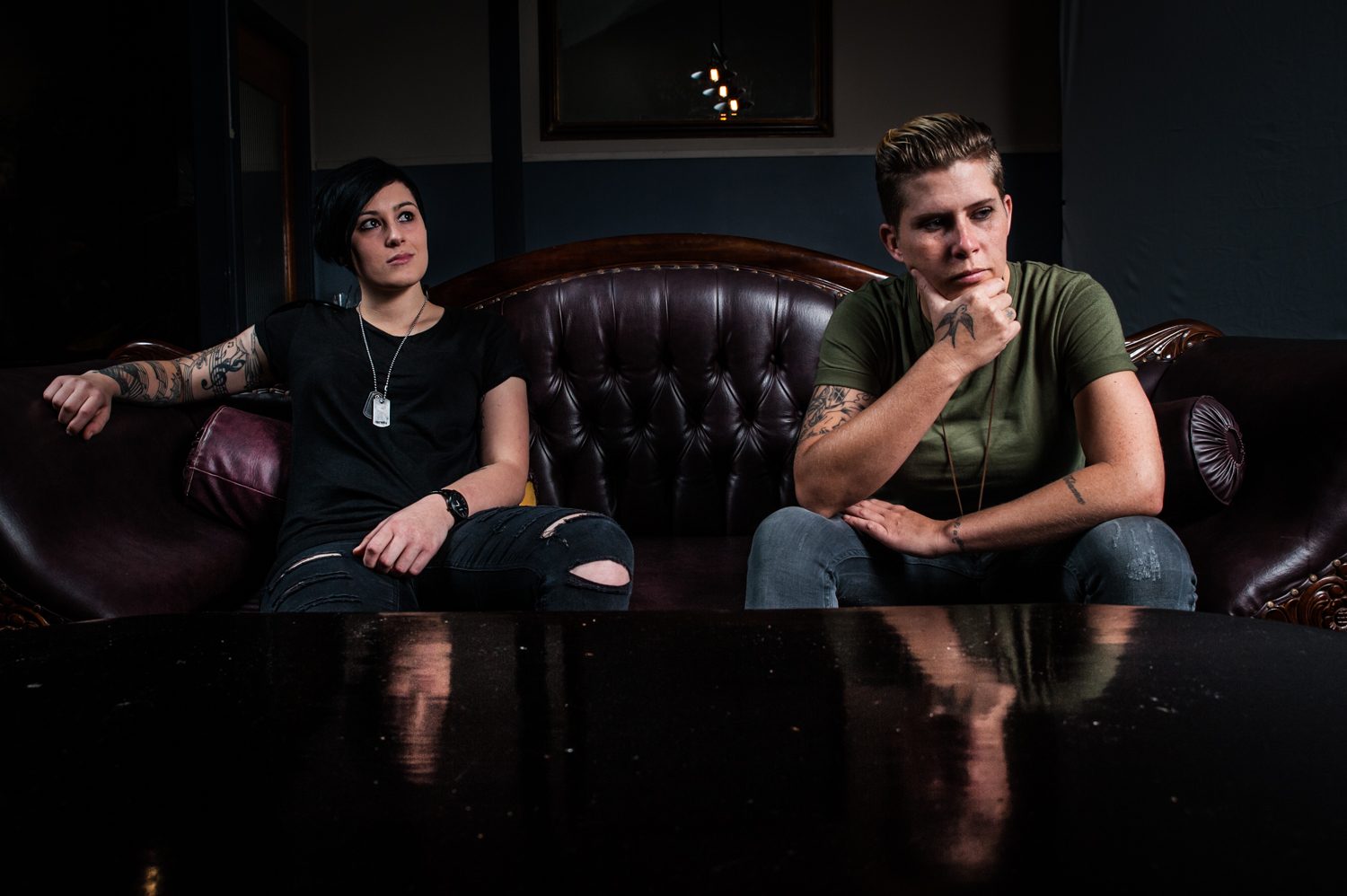 This up and coming lesbian fronted band are already in the process of writing their new album.
Late last year after playing causally together since 2013, two musicians decided to seriously team up and put more time and effort into making music together. Eight months after officially sitting down and writing, Mel and Jade have released their first EP.
Both Mel and Jade have been involved in music since very young ages. Mel began singing at age four and Jade picked up her first guitar at six years old. Although Jade started out on the flute, she quickly realised the guitar was much more her style.
Jade says she has always written songs but up until meeting Mel she didn't have the confidence to sing in public. Although Mel started singing at a young age, she didn't do it for a long time until meeting Jade.
The partnership allows both musicians to grow and Jade says they "work really well with each other writing songs and performing".
"It's About You" allowed this growth to blossom. Writing the tracks within two months, Mel and Jade spent three days at Scarcity Studios in Mayfield recording and laying down the tracks.
The experience helped them become more in sync with each other and both women are extremely proud of how the EP turned out.
The duo, self described as bridging the pop and indie worlds, is inspired by a multitude of artists. Mel identifies Sarah McLachlan as her biggest inspiration and Jade highlights the work of Ed Sheeran. Both Sarah McLachlan and Ed Sheeran "speak truth in the songs they write" and "put meaning into everything they sing", two factors that help keep perspective for Mel and Jade when songwriting.
The pair also notes that these artists's music helped them get through some pretty dark times and would like to see their songs "be able to reach out and do that for someone else."
This is a major push for the duo to continue to create music. Their favourite thing in the world is to see "someone who relates" the lyrics to their own life. By doing this the music "becomes theirs as much as it's ours." Mel and Jade have even seen fans starting to get their lyrics tattooed, a sign they are doing something right.
Mel and Jade want to remind people that pain is fleeting through their lyrics. "We are the authors of our own stories and we have the ability to love, lose, heal and let go," the duo says.  There is always hope, no matter where our path has come from.
Later this year, Mel and Jade are headlining the Hunter Valley's first ever LGBT Festival called 'Polkolbin Pride' in Maitland. The band is extremely excited to be performing at the four day event at the end of October.
When not creating music, the duo participates in numerous LGBT charity events. The most recent event they participated in was for the Elise Ryan Family Benefit.  Elise was tragically hit by a car in March weeks after giving birth to her second daughter and unfortunately didn't make it. Although Elise and her partner had two children together, her partner was not allowed to find out what was happening to Elise and has had to go through countless pieces of paperwork to try and secure her family's future because the NSW couple were not legally married.
Mel and Jade strongly believe that everyone should be allowed to love who they love and have the right to marry who they want to marry, regardless of gender, skin colour, or race.
Currently, the two are busy writing their next album which will be entitled "Agents Of Hope."
Watch the music video for Mel and Jade's 'Turn Around' below!