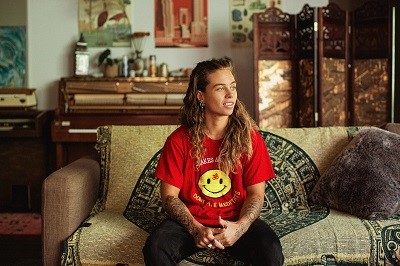 Tash Sultana is an explosive live artist who has commanded global attention since homemade videos went viral.
Tash was soon selling out major arenas globally and playing at the world's biggest festivals – no mean feat for an artist who just a year before was recording songs on a go pro in a bedroom.
Since Tash's grandfather gifted a guitar at the age of three, the self-taught artist quickly developed a unique style that has seen Tash breaking record attendances around the globe. Tash has mastered over 12 instruments, has a vocal that shines with a magical quality and a live show that needs to be seen to be believed.
The one-person powerhouse started out playing open mic nights on a fake id and busking on the streets of Melbourne, Australia. Recent accolades include over 1 Billion combined streams, an ARIA award for Blues and Roots Album of The Year with 'Flow State', smash single 'Jungle' coming in at #3 in triple j's Hottest 100, achieving platinum sales for the Notion EP, double platinum sales for 'Jungle' and platinum sales for 'Notion' along with numerous gold certified singles.
After a world premiere on Australia's "The Breakfast Show" (via national broadcaster triple j), multi-instrumentalist and global sensation TASH SULTANA has released her seductive new song "Pretty Lady," out today (April 9) on Mom + Pop Music.
The video was created using clips of friends, family, and fans all around the world in isolation to spread positive energy into the world. All the participants will continue to spread the word with the #PrettyLadyChallenge on social media. To coincide with the single's release, TASH also performed live on YouTube as part of their #Stayhome series through the pandemic on TASH's YouTube page.

"Pretty Lady" was co-written and made by TASH with Matt Corby and Dann Hume in TASH's own studio. The song is an exquisite showcase of storytelling that TASH has become known for, while also showcasing TASH's soulful and intimate vocals.

Reflecting on the track, TASH explains, "I've been trying to figure out how to write this song for like six years. I used to loop it and just free style to it when I was busking years ago, but I always got stuck on the same parts. I put the song in a box at the back of my mind and revisited it in November 2019. I had Dann (Hume) and Matt (Corby) spend some time in my studio and that's when I decided to show them this song. It's my first song I've collaborated with other players on."