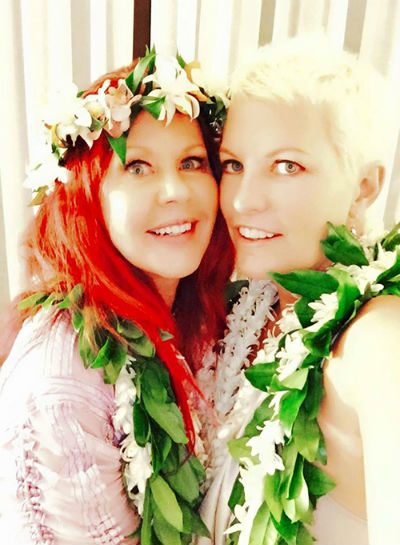 We celebrate the B52 front woman's latest release and her wedding to longtime girlfriend Monica Coleman in August
It's hard to believe that the B-52s will mark their 40th anniversary next year. With one of the most recognizable voices in any generation floating atop some of the most classic novelty songs in all of the music, one of the band's founding members, Kate Pierson, long ago carved out her place in the pop pantheon. If she — and the B-52s — never again recorded new music, they would still have a lasting legacy with "Rock Lobster," "Love Shack," "Roam," "Deadbeat Club," and so many others. Luckily, though, even with all those credits to her name, Pierson is far from ready to retire. In fact, she recently released her first-ever solo album, Guitars and Microphones, an adventure she has long wanted to take.
"I tried to do one about 12 years ago. I wrote a whole solo album and recorded some of it… even did a little tour with Sara Lee and Gail Ann Dorsey," Pierson recalls. "So, I was ready to do it, but then the B-52s started Funplex and I got caught up in that which was all-encompassing." When the band did take one extended break from their pretty full-on touring schedule, Pierson filled the gap with Nina, a project that trekked successfully through Japan in 1999, but never saw a U.S. release. All along the way, Pierson says, "I kept writing and doing my own stuff. It all brought me to this point. It's all good. I guess the time is now. The planets are aligned and here I am."
One of the "planets" that aligned was a friendship-turned-collaboration with Sia, the Australian singer/songwriter whose work can be found all over the Billboard charts — under her name and others.
Pierson's partner, Monica Coleman, suggested that she ask Sia to help get the solo project going. "She gave me a big jump-start because she started writing for herself with her different collaborators and she wrote three songs, right off the bat, for me," Pierson explains. "After that, we went on writing sessions together with Dallas Austin and Tim Anderson and Nick Valensi and Chris Braide. And we just got a great song every time. It was like magic. … Sia taught me a lot about a different kind of songwriting which is just more… with the B-52s, we'd go into a sort of trance with the jam. This was more like forming the lyrics to the melody instead of trying to think of them at the same time. Even though I had lyrics, those were kind of retrofitted to the melodies."
The first melody released off the new set was "Mister Sister," a song about gender identity that Pierson approaches with an absolute understanding and embrace of the issue because it's one that's close to her heart. "My friend Allen — also known as Tangela — we used to do shows at Wigstock and we always used to call each other Mister Sister," Pierson says. "And I thought it was a great metaphor for gender fluidity and wanted to write a song about a young boy — or it could be a girl — who had a gender dysmorphia and wasn't liking what they saw in the mirror. Just that kind of power of transformation — becoming who they wanted to be and being accepted for that."
That idea, "becoming who they wanted to be and being accepted for that," has always been part of Pierson's — as well as the B-52s' — very queer sensibility. It's just that, now, the rest of the world seems to be catching up. "It's a very accepting time. Thank goodness, things are changing," Pierson notes. "Now, finally, things are changing for trans people. I think that issue is important now and is kind of the final frontier of acceptance — giving trans people their rights and their recognition."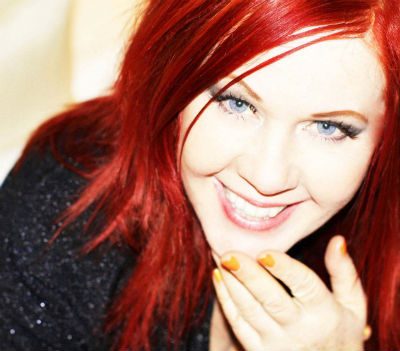 Pierson applies that philosophy of becoming and acceptance to her own life, as well. So, in 2003, when she fell in love with Coleman and became what she calls a "late-in-life lesbian," she just went with the flow. "I think it was easy because, for me, gender was always kind of fluid. I'd always been with men, but, when I met Monica, it just seemed like, 'Wow. This is it.' So it just seemed like a very fluid transition, too, for myself," Pierson muses. "I didn't even feel like, 'Oh, I have to come out.' It was just a natural flow."
She continues, "People always say they were the last to know or that kind of thing. But I heard Alan Cumming talking about — I really am bisexual, I guess — but he said it's important to him to say gay because it gets into this whole question of 'What are you?' And people think of it as this sort of hard line that's drawn. To me, it wasn't like, 'Wow. I've been looking all along!' Or something like that. To me, it was easy. Love is love to me."