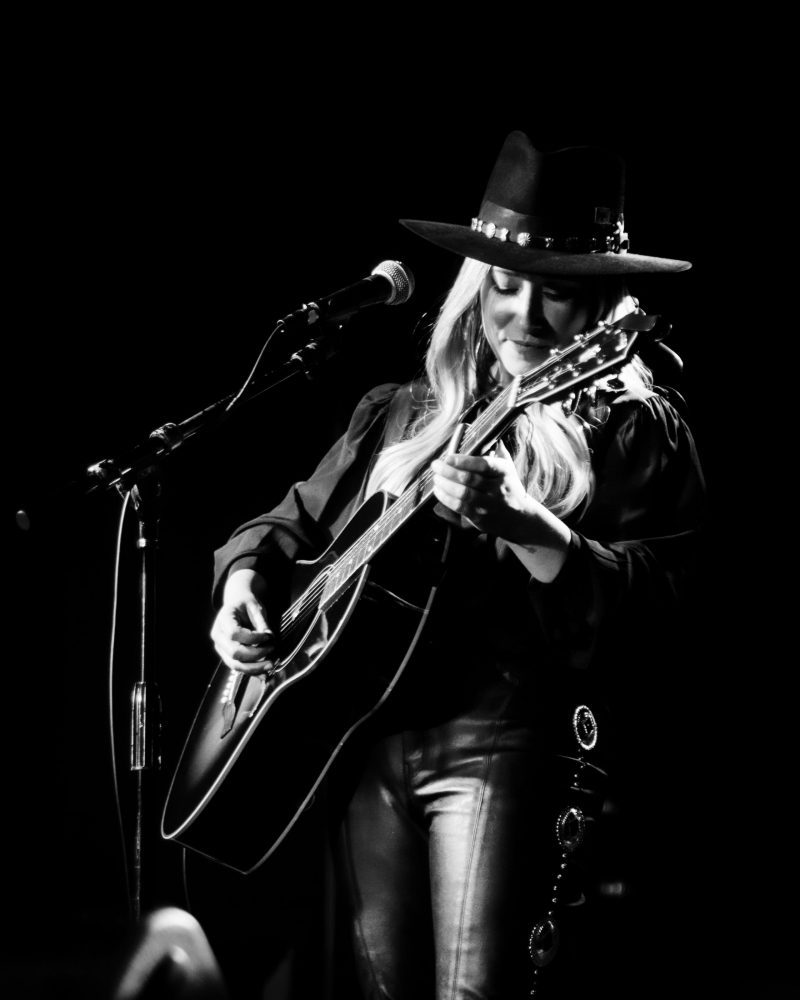 Anna Rose. Saturated from birth with music and dance, she's known nothing but talent, passion and love for the arts.
But it doesn't come from birthright alone. Anna has fought through hurdles that would have made most people throw in the towel a long time ago.
Coming onto the stage, she immediately radiated a sexy attitude with rocker sass. Her confident vocals demanded attention as she introduced herself, the crowd began to swarm to the stage as if in a trance.
When she began to sing, the place went silent, mesmerized by Anna. I noticed folks nudging each other with smiles as if saying, "You see this chick? This is good stuff!"
And it was. Anna's sound has that gritty finish that many singers smoke a carton of cigarettes a day to achieve, while you know hers' is a natural rasp. She uses that rasp with her smooth, bluesy tone to belt out an amazing show. Despite her petite frame and pretty face, Anna showed no mercy with her setlist and each song was fiercer than the last.
Her ferocity turned to goosebumps when she started her own version of Fleetwood Mac's Rhiannon. The entire venue went still and stood in awe at the powerhouse performance that was Anna Rose.
Promoting her newest album, The Light Between, Anna has been travelling all over the country sharing her sweet f-bombs and sultry rock to fans in all types of venues. After the show, she sauntered over to the merch table and was immediately ambushed by devoted fans eager to praise her performance and newfound fans wanting to meet their newest musical infatuation.
Eventually, Anna was able to find a window of opportunity to slip away and we were escorted away to her Green Room. Speaking of, to add to the nostalgia of the venue, they had converted retired shipping containers into the artists' private spaces and they were absolutely brilliant.
Industrial string lights backlit sheer drapes, giving the space a warm and inviting feel as we settled onto the couches as if we'd known Anna for years and she just got back into town to visit. Introductions were made and we slid flawlessly into interview questions as if we were just catching up on life together.
We ran a story on you, the new album, and the launching of your tour. So there's obviously some sort of connection with the LGBTQ world. How do you fall in?
Oh! Technically I am married to a man. I am a fierce, fierce, fierce ally. My best friend is queer, my lifelong best friend. I have taught songwriting at a camp called Gay Camp in Arizona… and yes, it's literally called Gay Camp.
The biggest thing about teaching songwriting was giving these kids a voice.
I am a very fierce ally in the LGBTQ community. So technically I'm married to a man, but I love everyone and love everyone being able to do their thing.
What is the biggest inconvenience or pet peeve about being on tour?
Ohhhh…
I mean…you have a pretty epic set-up here.
This is pretty great. The biggest thing for me, and this is more…uh…there's not a lot of sleep. At least at the level that I'm touring. Whenever I'm on tour I'm in like a car or a van and when you're driving long hours after the show and then you have another long drive the next day, at some venues you're changing in a public bathroom, doing your makeup in bad lighting, the guys don't really have a problem with that and there are fine so it's more of a female thing and that's a bit of a peeve for me. But I'm also pretty bombproof since I've been doing this for…uh… since I was 19 and I'm 34.
Yes, those things can be inconvenient, but all of that is for THIS. For those moments on stage and even when you have a bad show, you know… I can have ten bad shows but then have a show like this tonight where everyone is listening and people are paying attention and you have the respect of the people around you and you pay your dues, none of that stuff matters and it all falls away. I absolutely believe that when you go on tour you've really got to love what you do. So peeves aside, it's all gravy.
That sort of answers my next question of what's your favourite part.
The moment when you're on stage and you know that they are hearing you. Not just 'hearing' you but HEARING you.
That's one of my biggest issues on behalf of musicians, is when an artist is performing and no one is paying them any attention. That drives me crazy, like why are you even here?
You know, that doesn't bother me. I've played at a lot of bars coming up and when I came across situations like that, I see it as a challenge, like "Okay…why didn't this moment work?" So I think of it as a, if you're not willing to learn about what you do while you're doing it…like I'm going to do this until the day I die and I intend to get better and better at it every day.
So that leads into my next question, all you've known and all you've been around is music, so if the music wasn't an option… what do you think your career would have been?
I mean, it's just in me… my whole life…genetically. But, I was a professional dancer when I was a kid. I was a choreographer, I was in a modern dance company, I was also a Middle Eastern dancer…. I rode horses as a kid. If I wasn't doing something that required me to be so public, I would probably like want to live in Montana and like wrangle horses. That's what I would want to do. Or run an animal rescue. Animal rescue or a sanctuary, you know, anything with animals. But that's all I know, I mean, as I said, I was a dancer for a long time but that comes from my mom because she was a professional dancer, so without my parents, I don't really know…it's all in my genes.
So I know you're out of New York, is this your first time in Asheville?
No, I've played here a few times actually and I've definitely stayed here overnight when I've been travelling to other places, but I played at The Grey Eagle a while back, but that was a million years ago. I played here a couple of times in the past, I just can't remember all of the venues, but I love this town, it's so beautiful and driving through it is just so gorgeous and the people here are so lovely and I think when you find places that connecting to your music, you just want to stick around.
You mentioned on stage the whole Nashville tornado tragedy and brought up that a portion of your merch proceeds will go to benefit the community. Have you gotten a big response with that?
Memphis? No. ***laughter*** I was getting heckled last night for it. I didn't realize there was such a huge competitive streak there. But yeah, we've raised a bit of money and I plan on doubling it myself. It was very scary.
So what is your favourite song from your latest album, The Light Between?
That is an impossible question. I refuse to answer that one. But I will say that a song that's really special…I mean, they are all very special to me, but I wrote one song called Lessons for Liars. That song is special to me because it's the only song on the album I didn't co-write. I wrote it by myself.
When I was diagnosed with Lyme disease four-ish years ago? My brain was just different and I was very scared to write by myself. I didn't think I could finish a song and I really got in my head about it. So that song is really special to me. Also, the song Walking on the Edge. I grew up in New York but I also grew up in St. Martin in the Caribbean, I wrote that song right after…it was the day my family was going through all the wreckage of our house there.
It was like the roof came off and stuff…it's since been put back together but I wrote that song the day that I was getting Facetimes from my parents with them asking, "Hey, do you want this? Am I throwing this away?" And unfortunately, our very good friend Pasquel had passed away in the hurricane. So I wrote that song as a co-write and it's very special to me for that reason, but everything on The Light Between is… I wrote that record while I was still getting treatment for Lyme and I didn't know if I could write anymore.
I was numb in this pinky, I was numb in this ring finger, I could barely play and I couldn't remember lyrics so I didn't know if I could still do it. This record is the result of me saying, "No. I can still do this." And I think it's the best thing I've ever done for that reason. Maybe because it just feels like I've accomplished something. But that's why I would say every song is special on the record because they are all so deep and personal and they have a background.
So what type of music is currently on your personal playlist?
I'm kinda all over the place. I'm REALLY all over the place. I listen to a lot of old school Hip-Hop…I listen to a lot of Biggie… I listen to a lot of Rage Against the Machine…But I actually have a playlist on Spotify called Anna Rose Radio, so that's literally everything that I'm listening to plus a couple of friends that are doing things that I think are great. I used to listen to a lot of Old Country like real Outlaw stuff and now the newer Outlaw stuff I'm really getting into. I'm all over the place. That playlist will be a good indication of what I'm listening to. Just go to my artist account on Spotify. (We snagged the link for you here: Anna Rose Radio )
What is the biggest compliment a fan can give you?
Almost a quote from Jimi Hendrix: I think compliments are distracting. So if someone comes up and says I love your voice or I love your guitar playing tonight. I love your songs…I'm so grateful but I don't do it for that. I do it to connect with people. It's entirely about making someone else feel seen. When someone can connect.