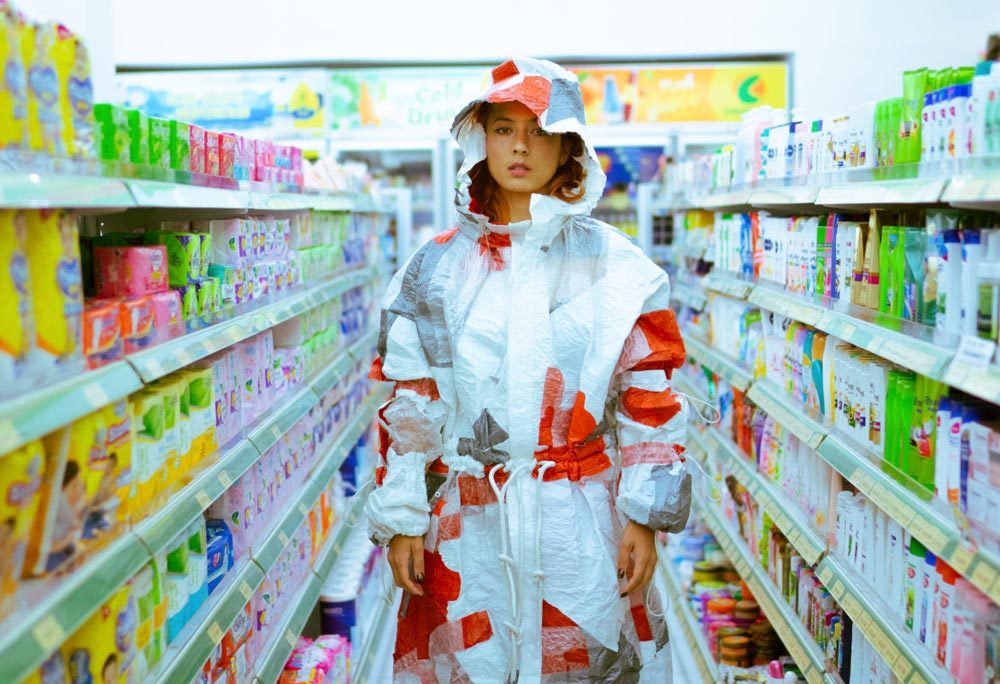 Step into the distant future as Chela unveils the bedazzled, bold hologram-filled visuals for her EP title track, 'Delivery', premiered overnight.
Set in the year 2069, this high-tech clip explores the idea of someone's soul-mate existing in another era, or even another realm.
Chela explains that she 'wanted to create that same sense of longing, loneliness yet hopefulness I sing about in the song with the visual.'
In this case, it's the feeling of an intimate connection between Chela's dancing hologram and the video's protagonist who sports a tattoo tribute to Chela's with her birth and death year (a date that's been confirmed in real life to Chela by two separate clairvoyants).
With additional music and choreography passion projects to come in 2020 as well as a debut fashion line launch, is there anything she can't do? One thing's certain. There's no telling where this prolific creative will pop up next.
We chat to Chela: 
You've just finished touring with US pop artist Gus Dapperton. How were the shows and what can you tell us about Gus that we might not know or do you have any stories from the tour you can share?
The shows were highly enjoyable! Gus and his band are absolute sweethearts and the supporters who came out to the shows were very thoughtful youths. I now call Gus' sister Ruby who sings and plays keys Baby Oracle as she always has words of wisdom to share. We all had a great party time after the Melbourne show at Le Fag. Something wild from that night was that when we arrived, the door person at the top of the stairs was Joao, the lead character in my new music video. I then bumped into 4 other folks who worked on the video separately within the club, it was trippy!
In your incredible video for 'Delivery', it's set well into the future (around the year 2069). What else do you imagine the world will be like by 2069?
Well, in the video I tried to cast the most sexually and culturally ambiguous characters possible as I think humans will be more diverse in these ways in the future. I'd also like to think that we will innovate ways to recycle more and hopefully reverse climate change. Ideally, we'll be making our own clothes from recycled material and growing our own food amongst other things. What I love about imagining this kind of world is that whilst technology will be racing ahead, we will have reverted in some ways to ye olde, regenerative practices. Unless this happens, honestly I don't think I see a future at all..
How did the concept of the video come about?
After I finished writing the song, the video concept sprang to mind quite quickly. At the time, I had a crush on a girl and I imagined watching her silhouette dancing in her lounge room, but for some reason I was a ghost on the street, unable to be with her. I then envisioned someone walking down that street into a nearby bar and having a similar experience in reverse, and thus the video concept was borne.
On the 'Delivery' video you worked with Stefan Duscio who shot two clips for Beyonce's visual album and Marni Kornhauser who has worked with the likes of Courtney Barnett, LCD Soundsystem and more. What was it like working with them on this?
A dream! I've known them both for many years from working in film, and admire their work so much. I feel incredibly fortunate to be able to work with such professionals. Working with friends is also a plus! I trust them both innately so that makes the process much easier.
You've released so many incredible music videos this year and you seem to be dancing in pretty much all of them. Are you a self-taught dancer or have you had formal training? And what do you love about combining multi-platform arts like dance and fashion with your music?
I did dance training as a child and then stopped when I was in my mid-teens when I moved cities. In my early twenties I did an ayahuasca ceremony and during the experience had a revelation that I should dance more, and so I incorporated it into my work more from that point. I've always had great enthusiasm for the material world too, so it feels very natural for dance and fashion to play big roles in what I produce as an artist.
We are very excited that you will be performing at Gaytimes and Heaps Gay. Who else are you looking forward to seeing from the lineup and why?
I'm excited to play! I haven't seen my friend Memphis LK play yet so I'm looking forward to seeing her do her thing. I'm also looking forward to dancing hard for my friend Whiskey Houston's DJ set. She DJ'd at my sister's very gay wedding this year and it was one of the highlights of my life.
Something about your music seems to connect with people from the LGBTQIA+ community in particular. Why do you think that is?
I'm camp as hell? I think that whilst I'm not shouting my queerness from the rooftops, it comes across quite clearly in what I do. Many of my songs are inconspicuous queer lovesongs.
You seem to split your time between Australia and LA. How does each location affect your creativity?
Both places are like chalk and cheese. Australia means home, family, comfort, safety, but it's almost too safe sometimes and that's not conducive to creativity. Los Angeles is more of a Choose Your Own Adventure storybook that can eat you up if you don't escape from time to time. I feel incredibly lucky to be able to enjoy the best of both worlds, though I am in a constant state of missing someone or something. That's good for the art I suppose.
What's next now that your 'Delivery' EP is out? Will you be releasing more music or playing more shows in 2020?
Yes, I'm planning on releasing a new single early next year and touring. I'm concentrating on writing a new dance-focused record next year and I'm excited for the new chapter!