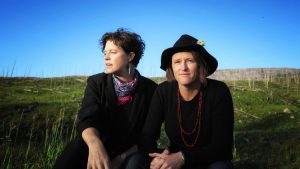 Award-winning Australian blues and roots act, Hussy Hicks released a heart-breaking soul ballad, Take A Look Over.
The new single and tour come off the back of a big year for the Hussies with tours across Europe and the US; standout performances at Bluesfest and Blues On Broadbeach; and multiple national, regional and local music award nominations.
A preview to Hussy Hicks' upcoming 6th studio album, 'Take A Look Over' is a soulful Annie Lennox-inspired break-up song to end all break-up songs.
"I really wanted to create a song that built into something completely heart wrenching and raw like the Annie Lennox song, Why," said lead singer, Leesa Gentz.

"It's about desperately trying to hold on to a relationship that is too far gone and all the pain that is associated with a breakup.

"There is something really moving and cathartic about reflecting on those past experiences that may have been hurtful, but were important in making us who we are today."
Produced by acclaimed guitarist, Julz Parker, this is the second single from the band's 2020 album, the first of seven to be fully recorded, engineered and produced by the all-femme force themselves.
A lyrical emotional rollercoaster, 'Take A Look Over' harnesses traditional soulful blues with a retro throwback of lush guitar, building and weaving behind Leesa Gentz' huge power-house soul vocals.
Prolific and well-accomplished musicians, Hussy Hicks have honed their sonic dexterity over the past 12 years with six studio albums, multiple industry awards and more than 1,000 live shows, from Australia's biggest blues, roots and folk festivals to 15 plus international tours, which now sell out across Europe.
2019 has been huge, with international tours, multiple award nods and two new singles. What has been the highlight of this year for you?
We've had a really great year, so it's hard to pick a highlight, but we've recently started to tour in some brand new places so that was exciting. Places like Alaska, Colorado, the South of France and Ireland are all beautiful places to visit so it's amazing to be able to tour there.
Your tour schedule has been intense between Europe, the USA and Australia. Where have your top three favourite shows been this year and why?
Again, it's so hard to say, but for this year I think the top 2 would be Byron Bluesfest and Blues on Broadbeach – they were both great for us because we got an opportunity to play our sets in our home area but with huge crowds and world-class production. I'll throw in a random as number 3 – we played in a bar in Talkeetna in Alaska. It was a town we'd never been to before right up North, so the sun never really set and by the end of the night all the locals had called their friends and it turned into quite the shindig. We made friends with some local pilots and got flown up to frolic on a Glacier on Mt Denali the next morning.
Julz, you've been touted by Phil Emmanuel as 'Australia's top female guitar player' and were voted fifth in Bluesfest's Guitar Hero fan poll, among Santana and BB King – how does it feel to be a lesbian woman voted in amongst a boy's club of artists like that?
I've spent my whole life playing the guitar and I've been lucky enough to play alongside some absolute greats over the years. We've played a bunch of Guitar festivals all over them and I grew up playing in Phil Emmanuel's band so the 'boys club' of guitar playing is a very comfortable playground for me. I started very young and there weren't many role models for young girls playing – Bonnie Raitt and Jeniffer Batton were really the only ones I saw out there. A lot has changed in 20 years – there are now so many female guitarists making their mark in the industry so I think with every year that passes we'll see more and more girls playing the guitar at all levels. As far as being voted amongst the boys – of course, it made me smile. It's always nice when you get a bit of recognition and it was indeed a big name list to sneak my little name onto.
You've both been on this journey together for more than a decade. How do you find a balance between your relationship and your musical career?
With touring so much we've really found it important to make sure that we don't just collapse in a heap when we get home. We always prioritise catching up with family and friends, nieces and nephews and really try to stay connected to our home lives. Living on the Gold Coast and Northern NSW, it's always pretty nice weather so we'll get in lots of beach swimming and broth eating to counter all our times couped up in cars and planes.