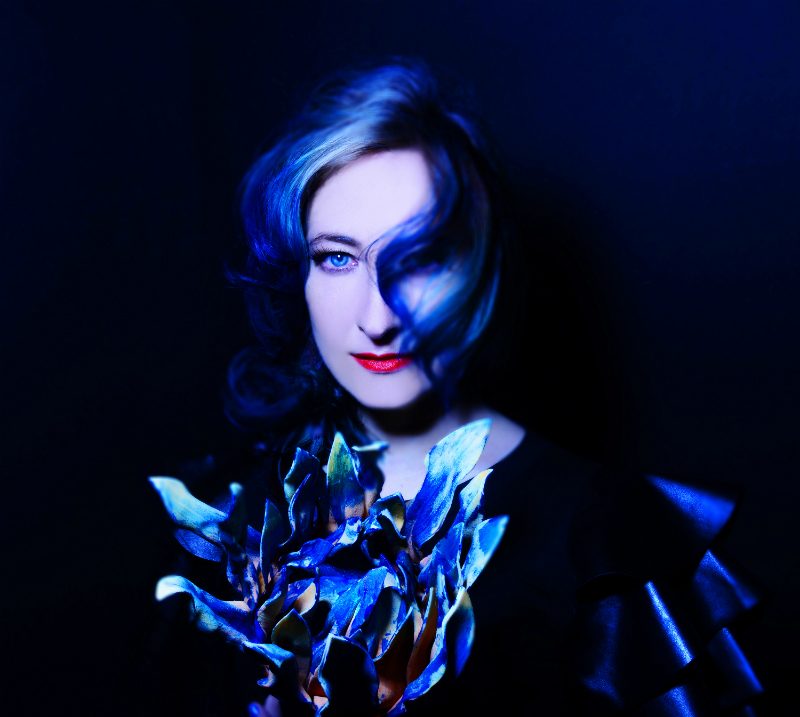 Feeling Blue? Rachael Sage shares the wisdom and bittersweet emotional roots beneath her new album, Blue Roses.
One of New York's most prolific and creative artists is back with a new offering. Blue Roses from Rachael Sage is like a treasure chest in a candlelit chamber, glimmering with myriad delights. Her voice—gentle, tremulous and always heartfelt—is backed by her piano, and a beautiful accord of instruments.
This time, Sage delivers an album that examines various relationships—of many kinds—their consequences and transformative qualities in a world that is increasingly confounding.
A little older and wiser, she now can make sense of the connectedness of us all: "If you break one heart it will boomerang back, Where was I when they taught that lesson," sings Sage in one of the standout track, "Wax."
As well as being a singer-songwriter and record label owner, Sage is also a poet, actor, and visual artist—and these combined expressive talents show in her engaging lyrics and layered instrumentation of these resonant pop ballads. It's a mystery how she finds the time to write and compose, given that she plays more than a hundred gigs each year with her band, The Sequins. I grabbed a moment to discuss Blue Roses with Sage in time for its November 4 release.
Blue Roses is about the many facets of relationships: the hopes, ideals and romance—but also when things go wrong or are lost. But ultimately the things that are gained transcend. What's the inspiration for this album in your life now; and/or how did the songs all come together for this theme?
The premise I was weighing throughout most of the recording of the album was that much of our pain in love, whether romantic, or in terms of family or friendships, stems from the desire to control the nature of others' behaviors in these relationships to the point where disappointment and frustration—when our expectations aren't met—become inevitable.
What happens if we let that go, even temporarily? What if we look at the possibility that controlling the parameters of the love in our lives is holding us back from growing or even changing, for the better? I was raised to "never settle" to "have some pride" and "don't let anyone walk all over you" and likewise, to "know what you want and go after it."
What if what you always thought you wanted doesn't make you happy? What if you become less interested in achieving happiness in the traditional sense, than in learning anything but what you already know?
It's not that I hadn't considered these questions the rest of my life, but somehow they became more focused and more crucial the last couple years for me both personally and on a more sociopolitical level. We're all connected, perpetually, to the same "bad news."
At any given time that connection can propel us to make positive changes…or it can create more tragedy and conflict on the micro and macro levels; it's about choices and how resistant or open we are to venturing beyond what is comfortable i.e. black and white, and to find hope in the shades of grey, so to speak.
I think the older I get the more flexible I try to be about just about everything, but foremost, in hearing people out. I think my greatest source of hope these days is that if I just listen harder, someone will tell me something, or share something, that will impact me enough to alter my point of view or at minimum, offer an alternate perspective.
I feel restless in a good way, and less complacent than I ever have before, and I know that's because I have very few answers about the world we're living in, other than knowing more than ever that music and art bring people together, and that shameless compassion is most of what I want to convey on stage…and of course, my penchant for bright colors and glitter!
You've supported Judy Collins and invited her to duet on Neil Young's "Helpless." Why that song, and what qualities about her do you admire the most?
I actually presented a few songs to Judy, including several originals, after we discussed the idea of her being a guest on my record. I rarely cover other people's songs, and the main reason I had that one in my repertoire at the time was because I'd recently been invited to perform it at a Neil Young tribute concert.
I was really happy with how the music came out when I tracked it with A Fragile Tomorrow—a new band we'd just signed to MPress Records—and I was thrilled when she chose it because it's just such a classic, timeless song and she has such an incredible ability to convey the emotion of any lyric she sings.
What I admire most about Judy Collins is her ability to make her audience feel like they're her family. She's warm, funny, witty, spontaneous, a great storyteller, and an impressive but always accessible musician. I see how her fans appreciate the career she's had but foremost, that she's wholly present and delighted to be singing, right now, for each particular audience as though it is her life-blood.
I think it's an amazing love-story, how long she's been creating and performing, and that so much of that devotion boils down to one quality she has in spades: charm. I have never met a more altogether charming human being than Judy, and that's because she's as equally accomplished as she is down-to-earth.
How can you not love someone you admire and whose music has inspired you, but who is also who is so empathetic and genuine? I will say I also really admire her strength, on stage and off. Many people in this business work as hard as you can possibly imagine, but not all of them have been through the kind of personal loss she has, and come out the other end so kind and open. She loves performing, loves people, and they love her right back…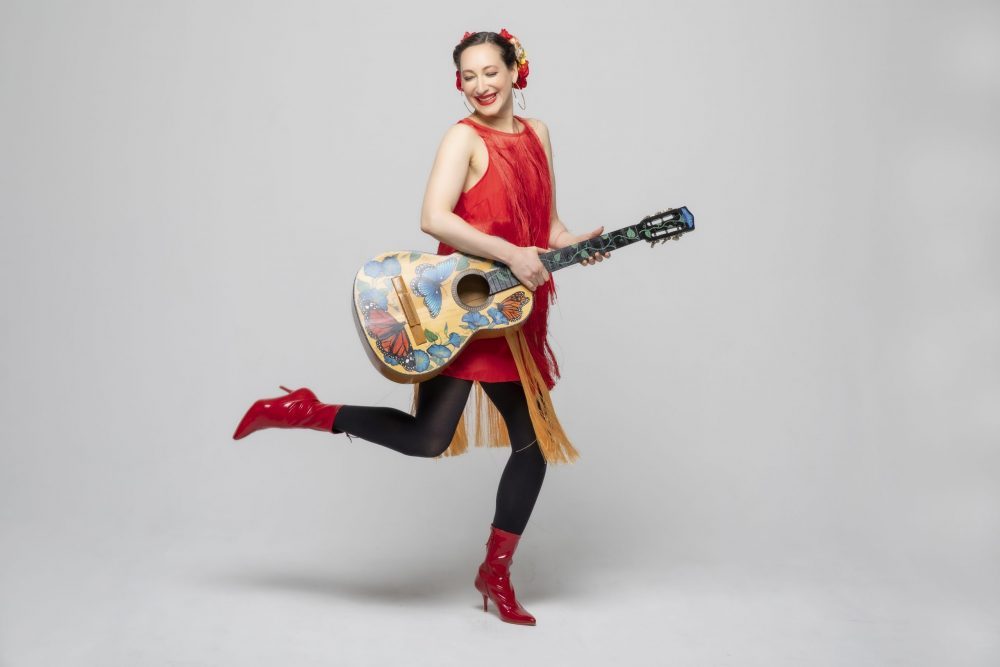 "English Tea" seems to be about a relationship that's not working but "you" stay. That's something many of us have been through. Is this an inherent trait in women and if so, why?
At this point in my life, I would never behave like the dynamic in the song "English Tea" actually; I just don't have that in my character anymore, and I'm grateful. If anything, I give up early, or I walk away at the first sign that I'm being "misunderstood"; my mom was a staunch feminist and drilled my "worth" into me from such a young age, I actually think it made me a bit too unwilling to consider any kind of compromise in relationships.
But yes, in the song, what I'm singing about is a relationship with a "player"; someone who lies, cheats and essentially doesn't have any shame about it. I haven't typically been drawn to that kind of person, but once in a while I have, and it's been a short-lived attraction.
On the flip-side, many of my friends—both male and female—have lingered or rather, festered, in relationships where they can predict everything they don't like about the other person's behavior and their respective incompatibilities, but they just feel stuck, for a variety of reasons. When I write songs, it's usually to try to answer questions.
"Why would so-and-so stay with whomever" is definitely what was on my mind when I wrote "English Tea"…and the people I had in mind were actually engaged! I could see so obviously it was fraught though, and yes—that trait of staying when it's not working can be something inherent in women. I have to admit I haven't observed it quite as often in men.
While I'm a better songwriter than I am a therapist, I imagine at least part of it has to do with self-esteem, or in other cases, an unwillingness to concede failure.
Later on in the album, "I'm Not Leaving You" has another perspective; this time it's about commitment, decisiveness. Tell me about the lyrics, "I'm not leaving you although you expect me to…"
I wrote this song after I found out Corey Monteith had passed away, and I was imagining what his girlfriend, the wonderfully talented and seemingly much more "wholesome" Leah Michelle must have been feeling, when she learned the cause of his death.
Obviously I didn't know either of them personally, but in writing the song, I imagined what may have been an incredibly passionate, soulful connection between two similarly creative, talented and celebrated young people. In the song, I'm writing and singing from the perspective of anyone who has loved someone struggling with addiction—and expressing a commitment and loyalty that only a certain kind of passion can inspire…especially if one person is a substance abuser and the other is not.
In my early 20s I dated someone who was beautiful, talented, kind and the definition of the word promising—but also, unbeknownst to me initially, a struggling addict. In my case, when I found out I ended the relationship but remained a friend, and I feel very lucky this person eventually overcame the addiction and is now thriving and happy.
In the song I did my best to isolate that moment of recommitting to stand by someone you love, whether through rehab or whatever other issue they may be facing, where the most powerful thing you can do is to show that person you care and won't give up on them even if they have given up on him or herself.
The combination of piano and strings is terrific on Blue Roses.
Thanks so much. I'm glad you like the instrumentation! I do play with some wonderful string players including Kelly Halloran (violin) and Ward Williams (cello), and I'm very fortunate to be able to collaborate with them regularly.
"Happiness" seems to be about the surprise of a new relationship that nevertheless seems like destiny—that's very typical of a lesbian relationship! What else can you tell me about this song?
Well, that's what I love about songwriting—it is always so open to interpretation, and that's a beautiful one! I did happen to write a little piece about composing this song, so I will share it with you—and certainly it has been a very lucky song for me so far, which may be ascribable to destiny!
I am not in a relationship right now and haven't been for a long time…but I do love performing this song live because it is really fun to sing from a more confident, uplifted place and to portray the kind of invincibility and euphoria that seems to exist mainly in the movies or in love songs!
I will state for the record that my own relationships have rarely been sudden or surprising, as I've mostly dated people I was friends with first, for a while. I guess sometimes I'm a little slow on the uptake—or maybe it just takes longer for my walls to come down in real life, than in my songs.
"Wax" is my favorite song on the album! What are the instruments used on this song?
In addition to my piano, "Wax" features a wonderful theremin player named Armen Ra, who also appears in the video for the song. He lived in NYC for a long time and performed with Antony & The Johnsons and did a lot of theater and his sound is so dramatic and unique. He's in L.A. now and actually overdubbed his part at his home studio and sent me the files. Gotta love technology!
The track also features drums (Doug Yowell), bass (Mike Visceglia), violin (Kelly Halloran) and James Mastro (electric guitar). I also electric guitar, for the first time!
With the theme of this song, which is also romantic karma, those patterns only become apparent the older we get. What are you learning as you are getting a bit older?
It's a huge cliché, but I actually am learning to not care what other people think. Many people seem to learn this a lot younger, but I had a pretty strict upbringing and was also a ballerina…it's taken me a while and hasn't been easy!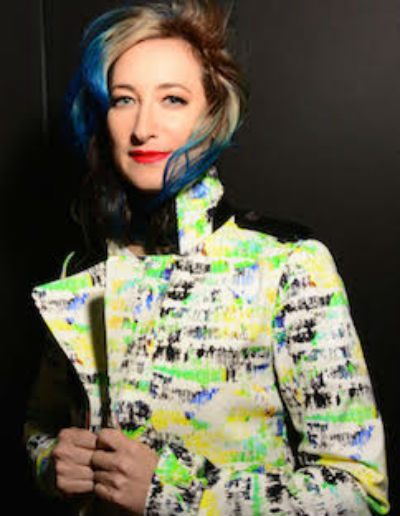 "Used to Be My Girl"—what a great song! "He used to be my girl…he used to wear my clothes…" OK, now tell us the story behind this song and the message it has regarding trans identities.
I wrote this song many years ago, and it sat on the shelf, so to speak. I thought it was "minor," in a way, because it was a light ditty, a few chords, and sort of simple for me musically. Last summer I played it in a rehearsal for my band in the UK just noodling around and they were like, "Whoa, that's a really important song, you need to record that!" and I was kind of taken aback.
The fact is, living in NYC for most of my life, I've been in a bit of a bubble. I write about my life, about the lives of my friends, about what I observe on TV or in movies or read in books and it's all equally viable subject matter to me if I find it interesting. And this song, well, it was in fact about something real and I knew someone who thought about transitioning who never actually did…but I wrote the song imaginatively, as though they had, ultimately, transitioned.
That's what we do as songwriters, we take those liberties! It's very matter-of-fact, which I think is what is pulling people in. There's no freak out, no judgment, no theorizing or even much emotion in it other than "he used to be she" and sort of reminiscing in a lighthearted way about it, like it's no big deal, it's just accepted as a fact like "who is he? oh, he used to be my girl.".
I don't know if I could've written a song this simple today because I'd probably overthink it. I wrote it in the mid-'90s, but I am happy I finally recorded it and while I really had no message at all other than to be a witness, in effect, I hope that by including it on my album that alone is a positive thing.
As a bisexual woman who has always felt instinctively that "love is love, people are people, the soul has no gender," I've always been horrified by the trials I've seen so many trans people face in our society, across the board. I have no delusions that my little pop song can do much more than hopefully, get someone to sing along to a love song about a trans-person like it's no big deal.
I actually had a radio person suggest that I should change the lyric to "she used to be my girl" like it was just a pretty lesbian song, because that would be more digestible. I guess that actually shows how far we've come as a community, in a way…but there is so much further we still need to go.
You are an incredibly hardworking musician and artist: no sooner had I found your EP than we get this wonderful, and quite long album—and another tour. What's your advice to aspiring female musicians who could be mistaken by thinking one YouTube video will make them famous?
Thanks for noticing! It's true I do work very hard, but many artists do. Most of my friends and peers work extremely hard, but they also love their work, so in one sense, it's their pleasure to throw their energies into it constantly, as it is mine. I've been asked this before and I always say the same thing: get a regular gig, and shed shed shed.
You know, the truth is one YT video could make you famous. So then you're famous, then what? Are you ready for a national tour? Do you want a career or just to make a quick buck and then go do something else? Music is no longer a financially alluring business anyway, but even if you're Meghan Trainor or Lorde and you emerge seemingly out of nowhere and take the charts by storm, you will be touring soon thereafter.
Nothing replaces that experience of performing in front of a live audience, and the whole key to a career—any career—is being ready, when opportunity knocks. The best way to be ready is by doing, and in a setting where you can make mistakes, and be forgiven. I wish I'd played more shows, sooner, more often.
Instead, I got my first big break opening for Ani DiFranco after barely having played any shows ever, except for a few gigs at my college coffeehouse. I'd made a good album, and I had some skills early on as a producer so I was able to project a much more confident version of myself onto tape at that point, and the record did well.
But I had no idea who I was yet as a live performer, was petrified playing in front of such big audiences, and didn't really have my show down; it was "trial by fire." I wish someone had explained to me a few years sooner that whole "10,000 hrs" thing.
Eventually I caught on and I haven't looked back since, but I don't think I learned who I was or what kind of an artist I really wanted to be until I'd played hundreds of shows. I had been developing myself in a vacuum, and I don't recommend it! I think buskers are some of the most amazing artists on earth.
I mean, day in and day out they play for people who are running from one train to another and not exactly receptive to being entertained—but it forces them to sharpen their performance skills quickly, to survive. Shed, shed, shed…that's my advice! It's different from practicing at home; an audience is your fuel as a performer, and you won't get very far unless you know how to harness their energy and recover when it wanes.