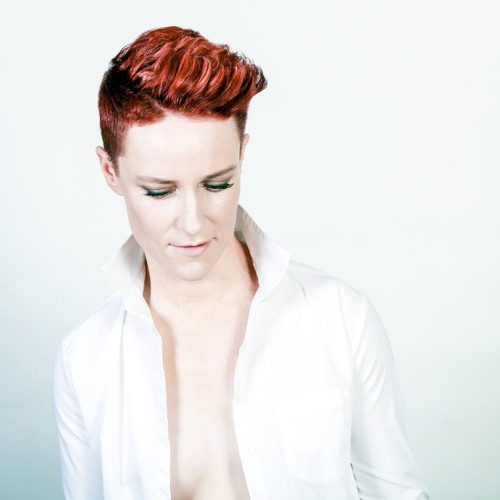 Fire, passion and dancing feet all over the world.
Australian lesbians are rejoicing from a recent injection of fresh blood in the dance music scene as their homegrown talent makes tracks on a global scale. DJ Amanda Louise leads the charge.
They say that every great success story begins with an idea that comes like a lightning bolt – and in the case of house music deejay Amanda Louise, never a truer word was spoken.
"It happened while on holiday in Ibiza. I was staying in a beautiful villa on the west side of the island. Intoxicated by the balmy breeze in the air, with my feet dangling in the pool, I was challenged by my girlfriend to write down my ultimate dream list.
"I closed my eyes for a moment and pondered the idea. And then a very loud voice inside my head clearly said; 'I want to become a DJ, to perform in Ibiza and headline the Sydney Gay and Lesbian Mardi Gras party!'
And that's exactly what this fire engine red-headed Aussie gal set out to achieve as soon as she arrived back in Sydney.
Juggling a highly successful marketing career in the fitness industry to make way for this newfound direction, for Amanda, life became about how she could make people move on the dance floor.
"I just love it when they dance in unison, like a tribe, awash in audio ecstasy. And I see their smiles across a packed dance floor, from friends and strangers, acknowledging that I've just taken them to a place of pure joy."
Amanda's passion for European house music leads her to her first residency in Sydney's top underground venue, Spice Cellar.
From here, an introduction to the creative team from Women in Mardi Gras led Amanda to her first gig within the LGBT community. They encouraged her to enter the 2013 Sydney Mardi Gras DJ Spin-Off Competition, which she later won, after entertaining over 40,000 people at Mardi Gras Fairday.
Encouraged by her success, and with a European summer calling, Amanda embarked on a mission to fulfil part of her ultimate dream of playing for audiences in Ibiza and abroad.
"Travelling overseas was for me, the ultimate in music education. I immersed myself in techno warehouse parties in Brooklyn, lavished the disco beats in Manhattan, felt the vibe of the Berlin underground sound and played to the sun in Ibiza."
A year later, Amanda was thrilled to return to New York to perform during Pride 2014, spinning at the Whitney Day Pool Party and then the 4th of July Celebration party at Hot Rabbit NYC.
And she hopes to return to perform for these events again during her 2015 Passion Tour – which begins on the 7th March 2015 at her debut appearance at the official Sydney Gay and Lesbian Mardi Gras party.
"It's a great honour and a dream come true. To play my passion and give joy to the dancing feet of my friends and my 'family' alongside JD Sampson and David Morales at Sydney Mardi Gras – honestly, I couldn't be more thankful!"